RANK: 3.5/10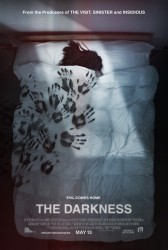 Arizona, Grand Canyon. Due famiglie passano del tempo insieme in quei luoghi così evocativi per dimenticare la quotidianità e staccare dai problemi, in una sorta di viaggio fuori dal mondo. Peter e Bronny Taylor, però, non sanno che a tornare indietro con loro sarà una presenza maligna, semplicisticamente scambiata per una stramberia del figlio autistico, Mikey.
Il contesto di The darkness (spero questo sia l'ultimo horror con questo titolo) promette bene: raccogliere le principali problematiche del ventunesimo secolo all'interno di un nucleo familiare, scuotere e percuotere gli animi, innestando le cariche esplosive dal basso (il figlio più piccolo, Mikey) e preparare la deflagrazione per spazzar via la cecità verso i propri cari. Bulimia, alcolismo, infedeltà, disturbi mentali si (con)fondono con le antiche leggende Anasazi, condendo un piatto che adornato nel modo giusto, può solleticare il palato. Peccato che il risultato finale di The darkness sia disastroso.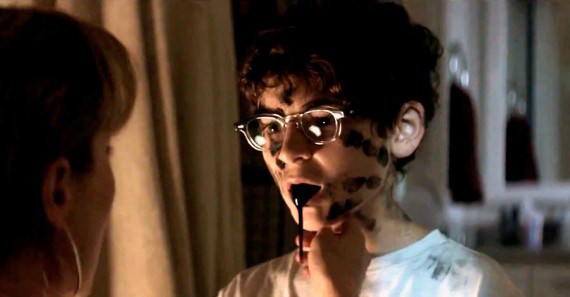 Sembra incredibile come il regista del crudele e feroce Wolf Creek 1 e 2 si sia perso all'interno di un plot solitamente destinato all'homevideo o al polpettone finto-horror mainstream con cast edulcorato (citiamo per dovere di cronaca Case 39 con Renée Zellweger o Il prescelto con Nicolas Cage). Greg McLean, infatti, non può o non riesce a stracciare le ridicole righe di una sceneggiatura che affonda nei cliché più banali (l'autismo di Mikey come fonte di "poteri" ai limiti del soprannaturale), non scava nella psicologia dei protagonisti (la bulimia della figlia maggiore dei Taylor non è minimamente funzionale alla trama) e si scontra con l'irrazionalità più becera (ricerche su internet a go-go per scoprire le origini della presenza). Inadatto anche come film scaccia-pensieri degli afosi pomeriggi estivi, non stimola nemmeno il sonno.
RANK: 3.5/10
Regista/Director: Greg McLean
Cast: Kevin Bacon, Radha Mitchell, David Mazouz, Lucy Fry
Usa 2016
Tag:David Mazouz, Greg McLean, horror regista wolf creek, horror soprannaturale, Kevin Bacon, Lucy Fry, Radha Mitchell, THE DARKNESS 2016, THE DARKNESS 2016 recensione, THE DARKNESS Greg McLean, THE DARKNESS recensione
Posted in Horror by Giulio De Gaetano on ottobre 6th, 2016 at %H:%M.