RANK: 7/10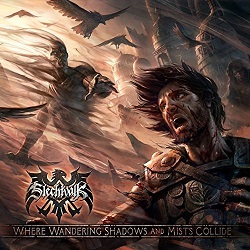 Dopo una lunga assenza dalle scene, ben 6 anni considerando che A Forlorn Throne è del 2010, tornano gli Slechtvalk ("falco pellegrino" in olandese) con un disco possente e aggressivo, debitore ad una infinità di altri album ma compatto nella sua irruenza.
Where Wandering Shadows and Mists Collide è un concentrato di death-black metal con una massiccia componente heavy metal che assesta colpi ben centrati in volto ("Asternas", "Nemesis"), si lancia in brani più complessi, innestando influenze viking che non guastano nel contesto ("March to Ruin", "Wandering Shadows") e scrive inni pronti alle urla nei live (l'opener "We Are" o "Rise or Fall"). Gli olandesi non rallentano praticamente mai il tiro, lasciando deflagrare il disco senza sosta, rallegrando quindi i fautori del genere ma non dando alcuno spunto a chi reputa il genere ormai saturo.
Interessante anche valutare gli Slechtvalk dal punto di vista dei testi, in quanto il loro genere assorbe alcune sonorità del black metal ma sicuramente ne rigetta le tematiche, in quanto il gruppo olandese è portavoce del Christian metal, amandosi infatti definire come "unblack metal". Where Wandering Shadows and Mists Collide sazierà la vostra fame di violenza sonora, necessario al prossimo giro assorbire ulteriori sonorità per non restare impantanati in un calderone ormai profondo.
Tracklist
01. We Are (3:38)
02. Asternas (6:31)
03. Betrayed (4:10)
04. March to Ruin (6:19)
05. Nemesis (4:04)
06. Rise or Fall (4:36)
07. The Shrouded Grief (5:12)
08. Malagh Defiled (5:06)
09. Wandering Shadows (8:47)
10. Homebound (4:55)
RANK: 7/10
Tag:Slechtvalk, unblack metal, Where wandering shadows and mists collide
Posted in Uncategorized by Giulio De Gaetano on marzo 5th, 2017 at %H:%M.