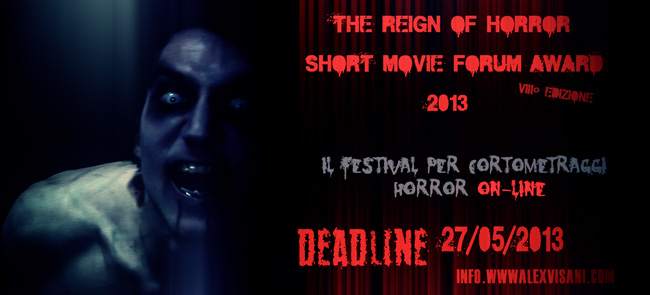 Finalmente giunge anche quest'anno l'ottava edizione del festival The Reign of Horror Short Movie Forum Award, contest curato dal sempre attivo Alex Visani, più volte presente tra le pagine di Through the Black Hole, attualmente promotore del lavoro corale The Pyramid.
Il bando d'iscrizione è aperto dal 16 Aprile 2013 al 27 Maggio 2013, ogni autore potrà presentare un solo cortometraggio. I corti dovranno essere rigorosamente visualizzabili tramite streaming (youtube, vimeo, stagevu, … ) e di genere horror o sottogeneri strettamente connessi. Il limite di durata massima per i cortometraggi in gara sarà di 25 minuti. Il modulo d'iscrizione lo trovate qui
Quest'anno i premi a disposizione dei concorrenti saranno :
- MIGLIOR CORTOMETRAGGIO
- MENZIONE SPECIALE DELLA GIURIA
- MIGLIOR REGIA
- MIGLIOR SCENEGGIATURA
- MIGLIOR FOTOGRAFIA
- MIGLIOR INTERPRETE
- MIGLIOR COLONNA SONORA ORIGINALE
- MIGLIORI EFFETTI SPECIALI
- PREMIO BIZ-ZARRO
Posted in News by Giulio De Gaetano on maggio 4th, 2013 at %H:%M.