RANK: 6/10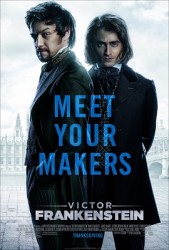 The horror stories of old, such as Dracula, The Wolfman, The Mummy, and of course, Frankenstein, have been adapted to the big screen and told many many times, in many ways. We all know the famous tale of a mad scientist who reanimates a dead body, bringing it back with the help of science and lightening bolts, better known as the monster, "Frankenstein"!
This tale has been told in many ways, but in this version of the classic tale, it is told for the first time from Igor's point of view, which I personally found refreshing. The hunchback known as Igor Strausman (Daniel Radcliffe), is a scared, lonely, and abused circus freak, who helps save the life of one of the trapezists who falls, and is near death because of her fall. His act of bravery is not overlooked. The mad scientist, Victor Frankenstein (James McAvoy), realizes there's more to Igor than his bad circus act. The good doctor ask Igor to leave with him to be his assistant in his lab, and the chance of being a part of something much bigger.
Victor and Igor not only become working partners, learning from one another, but also good friends, sharing their love of science, and new discoveries that take them on the road to the biggest creation of all time: the creation of life! However, Igor is caught in the middle of being a fugitive, and being entangled in Victor's madness and obsession of bringing the dead back to life. To find out if Igor stays with Victor on his journey, or saves himself from madness, I recommend, Victor Frankenstein.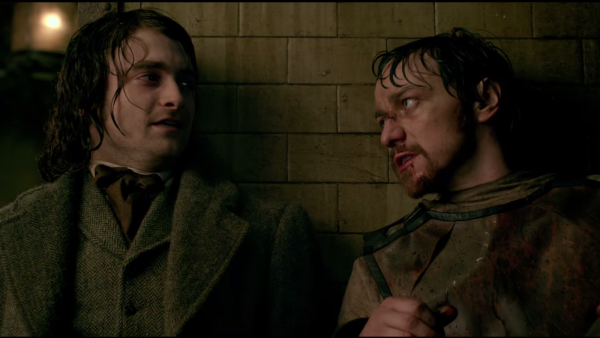 For the most part I enjoyed this film. I found it entertaining, and it was enjoyable to see the tale told from a different perspective, that of Igor. But the film slows down a bit from time to time, and the ending seems almost too much, a little fragmented. The acting was well done by both Radcliffe and McAvoy, which seemed to propel the story forward in spite of the occasional lull. The special effects were fun, and this actually felt more like a prequel, which was a nice surprise. I recommend this film, but maybe for DVD, unless you are a die hard Frankenstein fan.
RANK: 6/10
Regista/Director: Paul McGuigan
Cast: James McAvoy, Daniel Radcliffe, Jessica Brown Findlay, Andrew Scott, Mark Gatiss
Usa 2015
Tags: Andrew Scott, Daniel Radcliffe, James McAvoy, Jessica Brown Findlay, Mark Gatiss, Paul McGuigan, VICTOR FRANKENSTEIN, VICTOR FRANKENSTEIN film 2015, VICTOR FRANKENSTEIN horror movie, VICTOR FRANKENSTEIN review
Posted in Horror by Tony Northrup on December 12th, 2015 at %I:%M %p.