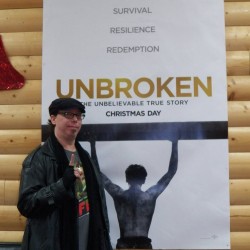 It's that time again! No, I'm not talking about taking down the Christmas tree, packing up the decorations, or cleaning up the New Years Party mess. I'm talking about the TOP 10 BEST FILMS OF 2014! That moment we take a little look back at the best, the worst, and the, what were they thinking, films of 2014.
2014 seemed to be what's considered a mediocre year for films. However there were a few that did make us stand up and take notice. Of course, what would a year be without sequels. As always there were many. We saw continuing stories of The Muppets, Transformers, Amazing Spider-man, The Purge, Ninja Turtles, Planes, Sin City, Horrible Bosses, and The Expendables. Quite a variety, and something for the whole family. I really enjoyed the Muppest Most Wanted, and the The Purge:Anarchy, which many agreed was a better film than the first one.
This past year also brought us a couple of remakes from a few decades ago, such as Godzilla, RoboCop, and even a remake of the well loved film Annie, originally filmed in the 1980′s. We also saw the final installments of The Hobbit series, Night At the Musuem, and let's not forget, the 20 year return to the big screen of Harry and Lloyd, in the film Dumb & Dumber 2!
2014 also brought us some really great family films as well. Big Hero 6, Into the Woods, Maleficent, Rio 2, and How to Train Your Dragon 2, just to mention a few. I bet more than a few of you caught some of these fine films with your own families.
There were several films which fall into the catagory termed gross-out comedies, and are a bit more adult comedy, such as Tammy, A Million Ways to Die in the West, and Neighbors, for example. But there were some real stinkers this year too, that would probably fall into the catagory, Worst Film of the Year. My personal pick for, Worst Film of 2014, by far, is the horror film, Ouija. You know when a film is based on a board game it's never a good sign.
Of course, what would a year in movies be without a little controversy? I'm speaking of the film, The Interview. The film that caused such a ruckus it was pulled from all theaters across the USA, and even the President had to get involved! Now THAT'S controversy!
So, with all that said, let's get to what has been considered by many as the TOP 10 BEST FILMS OF 2014. I have seen all of these films listed below, and enjoyed them all. Perhaps many of you have seen them as well on the big screen, but if not, remember some are already on DVD, or will be soon. As I always do, I will start with 10 and proceed to what I consider, as well as many others, the number 1 top film of 2014. Really though, all of these are very fine films and all deserve a viewing.
10. Captain America:Winter Soldier – MARVEL studios have more comic book films and sequels coming out faster than you can say, "one ticket please." There are 40 MARVEL films/sequels scheduled to come out between now through 2020! This sequel I felt, was better than the first film. Stronger story and plenty of action! The third Cap film is to be released in 2016, Captain America:Civil War.
9. The Hunger Games:Mockingjay Part 1 – This is the first part of the third sequel in this best-selling book series. Although the action was low in this sequel, I did enjoy it, and found it more like a stepping stone for Mockingjay Part 2, coming November 2015, the final film of the series.
8. The LEGO Movie – I have to admit, even I thought this was a stupid idea..at first. I mean, a movie about LEGO'S!? However, after seeing the film I fell in love with it, and the meaning within the story, for kids and adults to just simply be proud of who YOU are. Great message. And that "Everything is Awesome" theme song, it's STILL in my head!
7. X-Men: Days of Future Past – Yet another comic book sequel on the countdown, but I really enjoyed this installment to the X-men films, simply because it was a "time travel" storyline. Go back in the past to prevent disaster in the future? I think it was the best one of the series. And yes, another X-Men film is scheduled for 2016 release…X-men: Apocalypse.
6. The Grand Budapest Hotel – This was one of those films you take a chance on, and end up liking. The story about the legendary hotel concierge, Gustave H. who works at the famous hotel during World War 1 & 2, and his friendship with Zero Moustafa, the lobby bellboy. A wity and fun film to enjoy indeed.
5. Dawn of the Planet of the Apes – It is very rare that a sequel does better than the first film, or in this case, equal to. I really enjoyed this instalment in the "Apes" franchise, and loved it so much I saw it twice in the theater. Caesar the ape rises to power while trying to make peace with the humans, and also fights off a friend turned enemy among his own group. A third "Apes" film is coming in 2016.
4. Get On Up – there are two biography films in my countdown, this is the first. I love bio films, always have. Looking behind the curtain and seeing the other side of celebrities lives that we don't see on TV, or the big screen…until now, has always been a fascination for many of us. This film about the great soul singer icon, James Brown, is truly an amazing film! The performances were top drawer, and I truly hope Oscars will be awarded to those well deserving actors. This was a fine film in every aspect.
3. Guardians of the Galaxy – To be honest, I had no clue what this film was about at first. I knew it was from MARVEL, a film based on a comic book, and that's it, until I saw that first trailer months before, then I was hooked! I could hardly wait to see this film, and it did not disappoint! I haven't felt so excited about a book based film since the first Star Wars film when I was a kid. A rag-tag group of misfits from other worlds, coming together to save the galaxy…simple as that, but it was funny, great soundtrack, and lots of action! The most fun you'll have seeing a film, I promise! Part 2 is scheduled for release in 2017.
2. Interstellar – I have said a hundred times, director Christopher Nolan is a filmmaker ahead of his time. He is on a level all his own. With films like The Dark Knight Trilogy and Inception to his credits, I can tell you, Interstellar is a masterpiece! Some people felt it was too long, others say they didn't quite get it, but there is a very deep meaning in this film. A film about time, space, other worlds, saving mankind, and that unexplainable space between life and death. The type of film you want to watch over and over just to study it. Visually stunning beyond belief, and top drawer acting from an amazing cast. I have no doubt that this film will make it to the Oscars this year for sure.
1. Unbroken – This is the second biography film of the countdown. A film about the legendary, and inspiring Olympic runner, Louis Zamperini. His plane was shot down during WWII while on a rescue mission, and he and 2 others were trapped on a raft, left for dead in the Pacific. Rescued by the Japanese military, Louis spent time in their concentration camps going through hell. This is his story, and let me tell you, this is an immaculate film! Visually stunning, directed by Angelina Jolie, and performances that are Oscar worthy. Unbroken is the most inspiring, stand up and cheer, emotional, powerful, moving, and up-lifting film I have seen in a long time! This film teaches you to NEVER give up on anything, no matter the circumstances,or how hard. Unbroken is a very personal film for me because it is Executive Produced by filmmaker/director Mick Garris, my long time personal friend. Mick worked 10 years on this project, getting the story told and written, by the Cohen Brothers, and finally onto the big screen. Louis Zamperini is Mick's father in-law, and this is an amazing and perfect tribute to Louis, as sadly one week after post production, Louis passed away at 97 years old. He did however see his life unfold on film, what a send off. I truly hope on Oscar night Unbroken wins Best Picture, it is truly an inspiring story, and done impeciably by Director Angelina Jolie. I highly recommend you see this film, and bring Kleenex.
Well, there you have it folks! The Best of 2014. There are films I did not see that I have heard are worth your time such as, Birdman, Gone Girl, St. Vincent, Foxcatcher, Wild, Selma, Boyhood, and The Imitation Game. These films are still in theaters, and will be available on DVD over the next couple of months. All are worth your time.
2014 may be over, but 2015 looks to be the biggest film year in a long time! We have sequels to almost every franchise there is coming out including: Spongebob Squarepants, Taken, The Best Merigold Hotel, Fast & Furious, The Avengers, Mad Max, Jurassic Park, Terminator, James Bond, Finding Nemo, Friday the 13th,The Hunger Games, and the biggest film of the year: Star Wars 7: The Force Awakens, coming December 18,2015! So,mark your calendars for ALL of these films, and make 2015 a great year at the movies! Wishing all my readers a happy, healthy and prosperous 2015, and remember to look for my reviews and celebrity interviews coming this year… HAPPY NEW YEAR…SEE YOU AT THE MOVIES!
Posted in Poll by Tony Northrup on February 1st, 2015 at %I:%M %p.