RANK: 7.5/10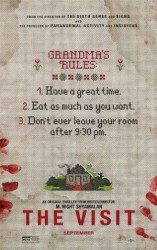 Some filmmakers take several films before they have a true box-office hit on their hands. For M. Night Shyamalan, he hit it out of the ballpark his very first film, The sixth sense in 1999. Since then, he has had a string of misses and very few hits…..until now. M. Night has redeemed himself with his latest scarefest, The visit. This "Twilight Zone" style tale is fitting for this time of year…Pre-Fall…Halloween time coming up…and in typical M. Night tradition there is a plot twist you will not see coming!
Our story begins when two young kids, Becca (Olivia DeJounge) and her brother Tyler (Ed Oxenbould) are sent to visit a week with their mother's parents out in the country. The idea comes when Becca is filming a documentary about her grandparents and discover many details of their lives and the mysterious reason of why their mother has a secret she keeps from them. While Becca and Tyler are their visiting, their single mother is enjoying life on a cruise ship with her current boyfriend. What the mother doesn't know is, her kids are about to go through a week of mystery, suspense, and even horror! And this was supposed to be a "fun" trip? It doesn't take long for Becca and Tyler to notice that..somethings not quite right at Grandma & Grandpa's house.
When the secrets begin to reveal themselves and terror lurks around every corner…it's time to go home! But how do you go home in the middle of nowhere and no phones and can't drive? What will happen to Becca & Tyler? And what is the BIG secret with Nana and Pop Pop? To find out, I highly recommend The visit.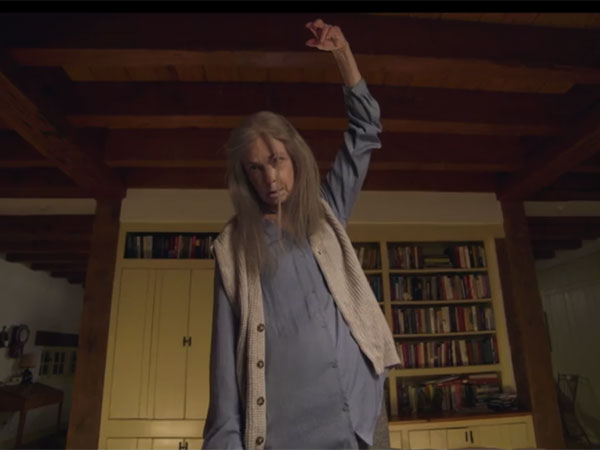 I enjoyed this film from start to finish! Filmed partly in documentary style, this film was creepy, scary, and actually funny at times! It felt like a "Twilight Zone" episode which most of M. Night's films do. I really enjoyed the brother, Tyler (Ed Oxenbould) he really made the film enjoyable. I was really nervous about this film considering the bad track record of M. Nights last few films, but this was the total opposite! It really was entertaining and a perfect film for a Fall afternoon.
RANK: 7.5/10
Regista/Director: M. Night Shyamalan
Cast: Kathryn Hahn, Ed Oxenbould, Olivia DeJonge, Peter McRobbie
Usa 2015
Tags: Ed Oxenbould, horror comedy, Kathryn Hahn, M. Night Shyamalan, Olivia DeJonge, Peter McRobbie, Shyamalan, Shyamalan the visit, the visit review
Posted in Comedy and Horror by Tony Northrup on September 28th, 2015 at %I:%M %p.