RANK: 8.5/10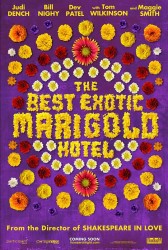 I'm very excited to bring you my first theater release film review of 2015! What better way to begin than with a sequel! The second best exotic Marigold hotel is the sequel to the 2012 hit The best exotic Marigold hotel, a film that I personally enjoyed so much it made my Top 5 Best of 2012 year end wrap up article that year. This second in the series is as equally entertaining as the first. So here we go with The second best exotic Marigold hotel.
Our story begins where the first film left off. Now that the elderly guests of the Marigold Hotel have settled in, their lives begin to take on a daily routine. Gone are the days of before, here are the wonders of India. So, just what are all the residents up to? Well, hotel owner Sonny (Dev Patel), has grown from eager and struggling hotel manager, to a very positive and ambitious, rather successful young businessman. Sonny, and Miss Donnelly (Maggie Smith), co-owner of the Marigold Hotel, are now seeking investors to open a second hotel, so off to America they go to hopefully secure the funding.
The investors are more than interested, however they want proof that they are indeed making a wise decision. An undercover inspector is sent to assess the already existing Marigold Hotel, and the question is…who is the undercover inspector? As our story unfolds, we are also able to peek into the lives of the other hotel residents, and what they have been up to. Evelyn Greenslade (Judi Dench), now works selling and trading fabrics, while still having strong feelings for Douglas Ainslie (Bill Nighy), who has his own job of sorts as a tour guide. Celia (Madge Hardcastle), has two very wealthy suitors after her affections, and is quite overwhelmed with it all. Lovebirds Carol (Diana Hardcastle), and Norman Parr (Ronald Pickup), run a new restaurant and bar, but question if both of them are being completely faithful to one another.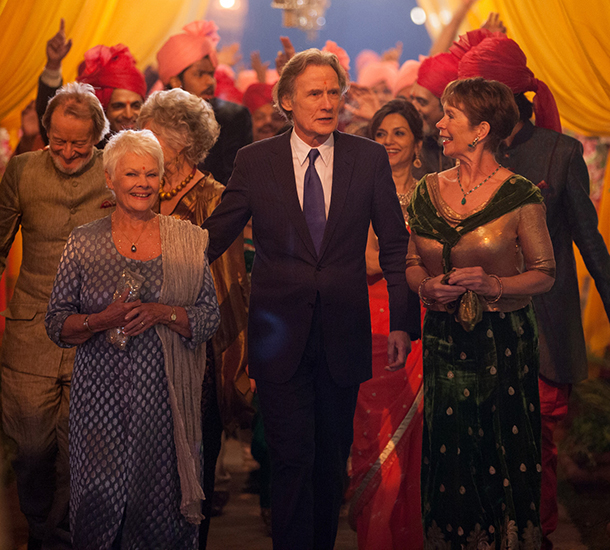 Meanwhile, Sonny's focus is so intent on finding out who the undercover inspector is, that his attentions to his fiance Suaina (Tina Desai), fall short considerably, and are apparent to more than just the frustrated bride to be. With not just one new guest, Guy (Richard Gere), but two, Lavinia (Tamsin Greig), Sunny is beside himself trying to figure out who the undercover inspector is. From mystery guests, hotel partnerships, budding romance, Chilla pancakes, and wedding plans, how will all this work out? To find out, I recommend The second best exotic Marigold hotel.
This sequel was very well done. It was tons of fun to see the characters from the first film return for more adventures in the hotel and in India. The music is very relaxing, the film is visually stunning. There is a deeper message that comes across in this second film. I personally found the philosophical and spiritual messages throughout the film to be very inspiring and moving. This was a great way to start the 2015 film year and I hope it will be for you as well.
RANK: 8.5/10
Regista/Director: John Madden
Cast: Judi Dench, Maggie Smith, Bill Nighy, Dev Patel
Uk 2015
Posted in Comedy by Tony Northrup on March 14th, 2015 at %I:%M %p.