RANK: 8/10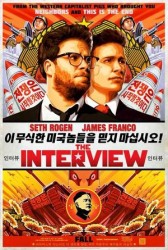 It's hard for me to write about anything when it is surrounded by so much hype, even if the hype has nothing to do with the quality of the film. I find writing about The Interview additionally complicated because comedy is not my bag, not to say I don't enjoy comedy but I love me some horror, guts and gore. Mysteriously a copy of this unreleased film fell into my lap from anonymous movie executives who wanted the best film critic in the world to look over their film I found it hard to pass up on the opportunity. I wont say if I got this from friends in CIA or NSA or are who at Sony… or TPB…
When television producer Aaron Rapport (Seth Rogan) realizes that the last 10 years of his producing an entertainment news show that is all interviews with movie stars is in fact bull shit news and he wants to do something real. When he finds out that his entertainment news show is one of the favorite TV programs of Kim Jong-un he gets in touch with the dictator and books an interview. Next day the CIA is at his front door asking him and his best friend and idiot anchor man (James Franco) to poison Kim Jung-un, who Rapport compares to Hitler.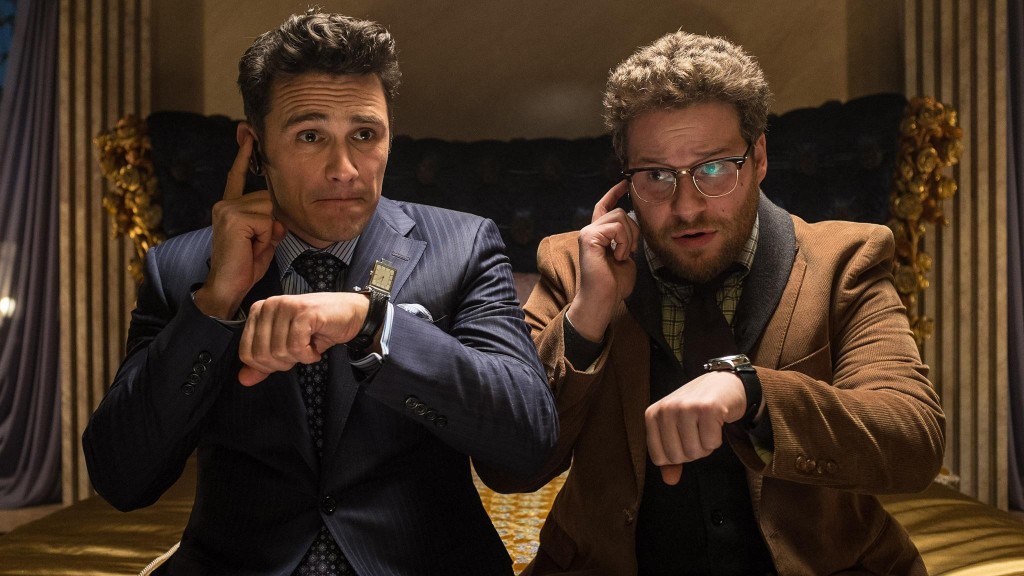 For the two people that don't know The interview gets its hype because the dictator of North Korea, Kim Jong-un, says he wants to go to war with the US if the film is officially released. The interview is probably the first film made during the life time of a political figure about a happy fantasy of their assassination. I say non-release is because Sony has decided not to distribute the film due to the dictators threats. Which while most American will piss away their rights over a potential minor terrorist threat I have yet to run into a fellow American that in anyway is frightened by North Korea… not even the nuclear threat. Which might lead you to think this film is taking a page from Chaplin's The Great Dictator and being propagandist, however I didn't really get that feeling because the film lampoons Americans more than North Korea. Intelligent Americans sell out and the stupid ones are pawns to materialism and mediocrity and what you see of North Korea is a "fake front" however you never see human rights violations or starving people –which are mentioned in the film. Film is a visual medium and I feel if this film were going to try and whip people into hating North Korea the "atrocities" of Kim Jung-un is what they would show and not portray him as a Katty Perry fan.
The "The Interview" has only slightly more intellectual depth than The Hangover if you can even say something like that. If you made a comedy and one of the main characters just happened to be Adolf Hitler and not mention the Holocaust at all (instead of Kim Jong-un), it would run parallel The interview. What could be mistaken for depth is merely portrayal, there is no symbolism and not a single sad face of the North Korean people.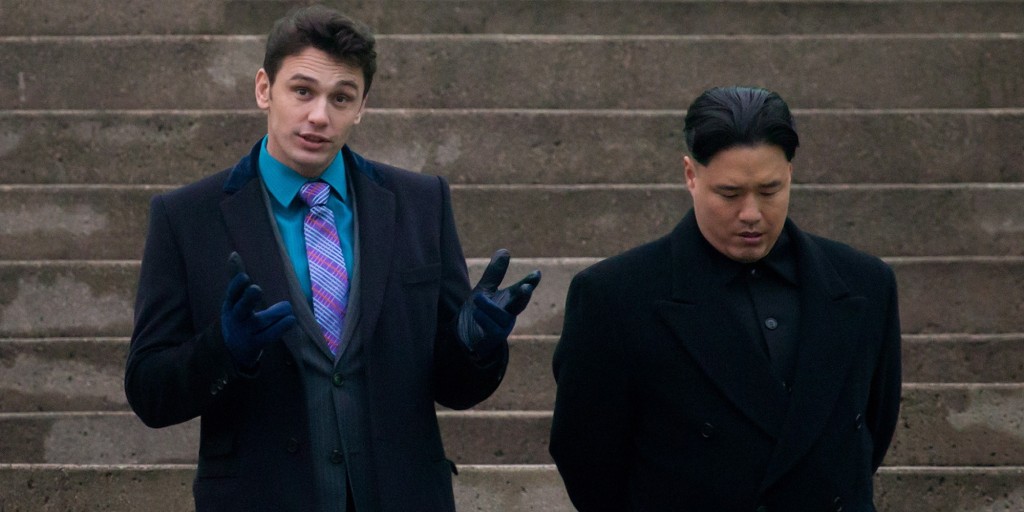 Kim Jong-un (Randal Park) is portrayed as the dictator who's living it up "gangsta" style and showing off to the stupid American TV reporter who does his interviews with information being feed to him via ear piece. Jong-un is not prorated as charismatic but almost like he'd fit in hanging out at college frat party and aside form few small out burst about destroying the world he's a likable guy who's into playing basket ball and strippers.
Jong-un has threatening to go to war with the US expressing the film was a threat to his life, or something like that. Which I can see both sides of the coin, if someone told me they were making a film about murdering me, comedy or not, I might have some reservations about that, granted if I expressed those feelings no one would listen, mostly cause I just don't have access to an army or nuclear weapons… yet. I'm sure to be the only person writing about this film who might be thinking how surreal it must have felt for Kim Jong-un to watch a movie about an assassination attempt on his life. From the demeanor of most politicians I get they are pretty arrogant with little room for epiphany, but I could be wrong.
Then again I find it rather convenient that Sony pulls the plug on distro and suddenly the film 5 – 6 days after being leaked and is the 12th most down loaded film on the Pirate Bay (not that I would ever download movies for free all the time.)
The interview made me laugh … a lot. I would recommend it, not for it's twists and turns or surprises, you can kind of see how the whole movie is going to end in the first 5 minutes –which includes Eminem coming out as gay, The interview does its job as a comedy and the film is consistently funny start to finish. The best description of this film I can think of is the song "Make 'em Laugh" from "Singing in the Rain."
RANK: 8/10
Regista/Director: Seth Rogen, Evan Goldberg
Cast: Seth Rogen, James Franco
Usa 2014
Posted in Comedy by Josh Darling on January 10th, 2015 at %I:%M %p.