RANK: 8.5/10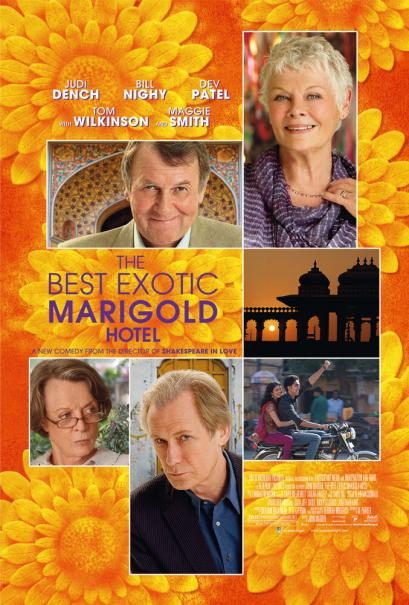 When we eat food that is not good for us, we call it "Junkfood". We know it's bad for us, but we eat it anyway. The healthy food is there, waiting for us to do the right thing and eat it, enjoy it, and it's better for us. And in the end, we are satisfied and wonder why we didn't try it sooner.
The same can be said about films. We see what I now call "Junkfilms" we watch them knowing they aren't any good, we know they are bad for us, and we don't really gain anything from them. However, there are plenty of great films ("healthy films") that we know has substance, is worth our time, and better for us. My goal years ago when I first started writing film reviews was to encourage "better" films, "healthy" films, and films worth your time because it is then the true Art of films lies within. With that said, I have discovered yet another wonderful film. A film told to me by word-of-mouth and now I am passing it onto you, dear readers. So, here is my review on The best exotic Marigold hotel.
Once in awhile, a film comes along that totally takes you not just by surprise, but really pulls at your heartstrings. A film that makes you realize reality, yet awakens you that there is hope at the end of this long road called, Life. This film is a reality check for those of the older generation of society and at times is a bit scary because we too will be old some day and we can only hope our golden years will be secure. This story follows a group of older generation characters as each of them all have a backstory, but life brings them all together to India.  This is a perfect cast of actors they have brought together and they all do a perfect job making their characters believable and likeable. At the beginning of the film, we are introduced to the cast of characters and a short look at their current situation. First, there's Evelyn (played by Judi Dench), her husband had recently passed away and as a widow she must sell her home and all she has to pay off her late husband's debts. Graham (played by Tom Wilkinson), is a life-long Judge who has traveled back and forth to India most of his life and has decided to retire there. Douglas (played by Bill Nighy), he and his wife, Jean (played by Penelope Wilton), are retiring and not ready for an old folks home or a small apartment they can barely move around in. Muriel (played by Maggie Smith), is a housekeeper that has taken care of a wealthy British family most of her life and is recently let go of her job duties. However, she is also in need of a hip replacement and is recommended by her doctor to see a specialist in India that could help her better. Norman (played by Ronald Pickup), who is just out to find love, happiness, and most of all; youth. And finally, Madge (played by Celia Imrie), with her daughter trying to keep her at home and not live her life on her own, she decides to leave and try something and somewhere new while also looking for a new husband to live out the rest of her golden years with.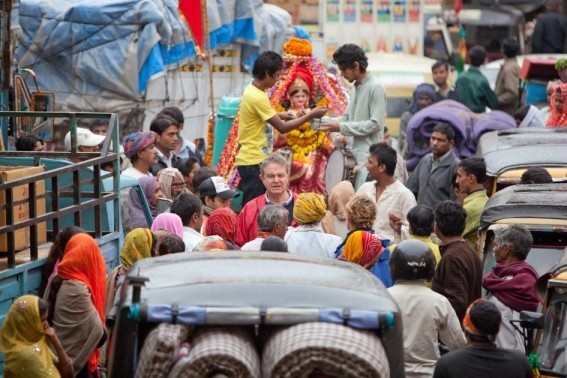 All of them see an ad for the Best Merigold Hotel in India which promises to be the most wonderful hotel and peaceful place in all of India. However, once they arrive, the hotel isn't quite what they expected. Wanting to leave right away, they are talked into staying by the young man who runs the hotel, Sonny (played by Dev Patel), who was handed down the hotel by his father. His wealthy brothers own a share of it, but they found their riches elsewhere. Between running the hotel, pleasing his guest, and proving to his mother that his girlfriend, Sunaima (played by Tena Desae), is the right girl for him and not an arranged marriage. The guests of the hotel are all going through their own personal quests, lifes troubles, and adventures as well as new love and letting go of love. Plus, trying to deal with the traffic, heat, and spicy food and everything else India has to offer. Will love be found or lost? Will the hotel survive or be closed for good? And will the guests of the Best Exotic Merigold Hotel survive? The answers to these and a lot more can all be answered by watching this film.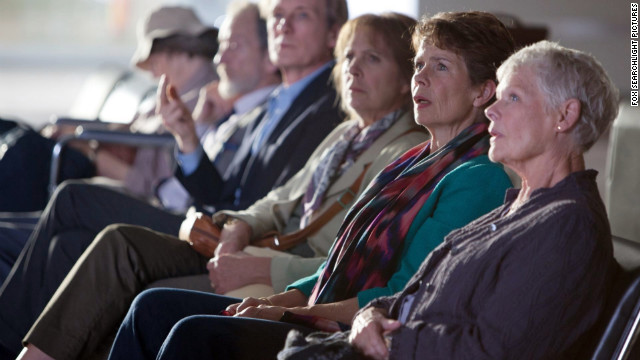 In the 80′s, there was a film called, Cocoon about older generation characters searching for a second chance at life. A few years ago, there was a film called, EAT, PRAY, LOVE about a woman searching for love and life and a part of that film took her to India and helped her with her search. Put those two films together and that's what you have with The best exotic Marigold hotel but A lot more! This film was funny, heart-felt, romantic, and the feel of reality that we all must face someday; getting older. The character's are interesting and you find yourself enjoying them so much you hope they all have a happy ending, the locations are beautiful capturing the heart of India, and the moral of the plot is …..well, you just will have to watch it to find out. This is one of my Top Ten Favorite films of 2012 easy! Some may not enjoy a film like this and prefer "Junkfilms", but I ask you take a moment and watch this film and you will walk away with the most warm feeling you'll get from any film this year.
RANK: 8.5/10
Regista/Director: John Madden
Cast: Judi Dench, Bill Nighy, Dev Patel, Tom Wilkinson
United Kingdom 2012
Posted in Comedy and Top movie by Tony Northrup on November 16th, 2012 at %I:%M %p.