RANK: 8.5/10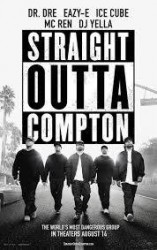 In the 1980′s, among the music of Alternative/New Wave, Heavy Metal, Top 40, and Dance Club techno music – there was the urban music of Rap. Rap wasn't taken very seriously for many years. It was also a very "young" form of music back then with groups like Grand Master Flash & the Furious Five, Whodini, and Sugarhill Gang. It was up until the mid-80′s when bands like The Beastie Boys, LL Cool J, Run-DMC were putting songs at the top of the charts and money in the music industries pockets.
However, there was another side to this style of music: Gangsta Rap. African-American youth in the very hardcore parts of inner cities in Los Angeles and New York where crime, drugs, gangs, violence, and death ruled those areas. Out of that, in the South Central area of Los Angeles, California came some very angry youths who wanted to put their thoughts and views of these violent times to a cool music beat and make records. The band was called, N.W.A. and band members: Ice Cube, Easy E, Dr. Dre, DJ Yella, MC Ren, and The D.O.C. came from Compton California from the mean streets of the heart of gang territory. They had two choices growing up: die on the streets being killed by other gangs/drug dealing or become famous and get out of that area for good. With fate, destiny, and luck they became the biggest Rap band in music history.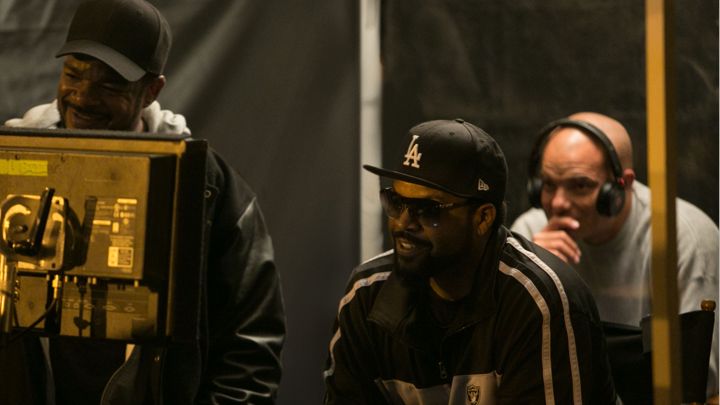 The film, Straight Outta Compton is a bio film about these men meeting in 1987 and coming together to put their message on the airwaves. When music producer Jerry Heller (played by Paul Giamatti) discovers their great talent, Ruthless Records (the bands first label) begins the road to success. During one of their shows, another producer from Priority Records wants to make them bigger and begin touring. It is the road to success and fame that they lead now. And on that very road it is never an easy one. With violence, drugs, sex, power struggles among the band members, and personal issues take over and eventually rip the band apart. Can these once urban friends stick together through the rise and falls of being famous or will fame determine their final fates? This is a hardcore, fast-paced, and dark vision of the world of Rap and all the pros and cons that come with it. To find out how the band survives (or not), I highly recommend … Straight Outta Compton!
I have always been a fan of biography films. I find it amazing and interesting to know what happens behind-the-scenes and this film is no exception. It leaves no secret unturned. This has a great cast, very well directed by F. Gary Gray, and without question the best movie soundtrack in years! I thought they captured the historic events of the late 1980′s and mostly early 1990′s very well with the riots in L.A., the East Coast/WEest Coast Rap Wars, the Rodney King beating, the angry fight against the L.A.P.D., and other events that took place during that time. Although the film does seem to slow down a bit in the second half, it was still very interesting and entertaining to keep my interest. This is without question one of the Best Films of 2015! There is rumor of a sequel which will focus on Snoopy Dogg and Tupac Shakur's rise to fame in the Rap music world.
RANK: 8.5/10
Regista/Director: F. Gary Gray
Cast: O'Shea Jackson Jr., Corey Hawkins, Jason Mitchell, Paul Giamatti
Usa 2015
Tags: Corey Hawkins, F. Gary Gray, Jason Mitchell, O'Shea Jackson Jr., Paul Giamatti, STRAIGHT OUTTA COMPTON
Posted in Comedy by Tony Northrup on August 27th, 2015 at %I:%M %p.