RANK: 6.5/10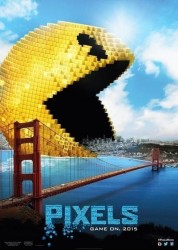 If there's one thing about all of Adam Sandler films it's that he always takes us back to a much happier and simpler time in our lives by bringing us "old school" rock and roll and Pop Culture. There is no other bigger Pop Culture from yesteryear than the video games we all grew up with: Pac-Man, Donkey Kong, Centipede, Space Invaders, Q-Bert, Frogger, and many others.
Now, imagine those fun games coming to life to destroy earth! Well, that's what happens in Sandlers lastest fun film, Pixels. Brenner (Adam Sandler), Cooper (Kevin James), Eddie "FireBlaster" (Peter Dinklage), and Ludlow (Josh Gad) are all young kids in 1982 who hear of a new arcade opening up at the Mall. Racing down there to play these now classic video games we've all enjoyed growing up, Brenner and Eddie become two of the very best in the Gamer world. On the day of the video game championship, the MC announces that same day a special time capsule is being sent to outer space with earth's culture and hope to make contact with alien life. Fast forward to present day, the boys have all grown up to different jobs and futures: Brenner is a tech guy who installs flat screen TV's in peoples homes, Cooper has become President, Eddie is in prison for "many" reasons, and Ludlow is a conspiracy theorist. When the aliens send "pixels" back to earth in the form of 1980′s videos games to destroy earth, it is up to them to save us all!
Just like a real video game, they have three "lives" or chances and if they lose it will be complete destruction for the whole planet! They have to put their video game smarts to the test and hope they can save mankind. To find out of Adam Sandler and his friends can defeat them or will they have the final "Game Over", I recommend..Pixels!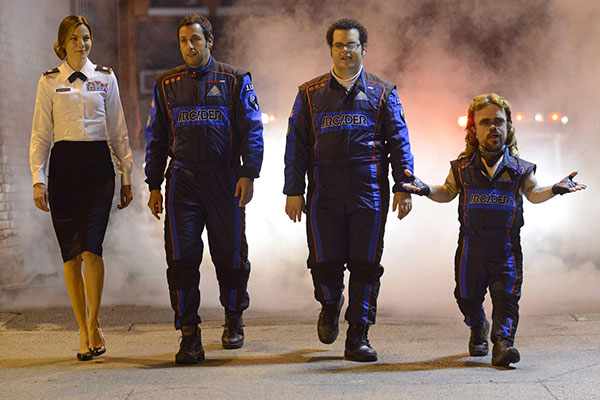 We all know that Adam Sandler has a very simple formula to his films: Old rock and roll, Pop Culture, uses real life acting friends as his cast, and silly one-liners wrapped around fun, yet unbelievable plot. That is what you get here with Pixels. The story is unbelievable, but as I watched the crowd I noticed that the adults were having more fun than the kids! The adults, including myself, laughed and caught every joke from "our generation" from the video game references to the celebrity cameos that appeared with the aliens talking through them from old TV shows and rock stars to other Pop Culture cameos from early 1980′s life.Speaking of "cameos", during the final battle, you will find yourself like I did, seeing tons of "old school" arcade characters all over the place! Had that feeling like in Toy Story when you pointed to the screen recognizing all your old favorite toys from when you were a kid…same feeling here.
I thought the F/X's were pretty entertaining and most of the jokes worked. However, while the adults did most of the laughing, the kids enjoyed the orange, big nosed video game character of yesteryear: Q-Bert who was as cute and loveable as a gremlin or E.T. or an Ewok from the 80′s. This is completely a silly, fun, family friendly, "check your brain at the door" film to truly not meant to be taken seriously and just enjoy. So, go back to the 1980′s and a much simpler time and go see Pixels.
RANK: 6.5/10
Regista/Director: Chris Columbus
Cast: Michelle Monaghan, Peter Dinklage, Adam Sandler, Ashley Benson, Sean Bean
Usa 2015
Posted in Comedy by Tony Northrup on July 27th, 2015 at %I:%M %p.