RANK: 8.5/10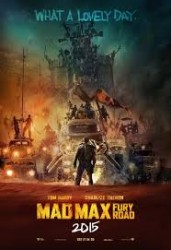 Usually, the first thing one thinks of when they hear "sequel" or "reboot" is that, It's not going to be as good as the first one (original). Well, I'm here to tell you folks that we have a winner with MAD MAX:FURY ROAD.
It has been 30yrs since we last saw the iconic film character "Mad Max" hit the big screen and originally played by Mel Gibson in MAD MAX:BEYOND THE THUNDERDOME (the second film was in 1981, MAD MAX:ROAD WARRIOR and the original, MAD MAX in 1979). Fans of the franchise thought we had seen the last of that "mad" ex-cop in that futuristic desert wastelands and moved on…until now. Although Mel Gibson is not reprising the role in this fourth film of the series, director George Miller has for the fourth time. 'Max' is played this time by Tom Hardy who has been in many great films, but you may know best as 'Bane' in the last Batman film, THE DARK KNIGHT RISES. Does Tom pull off the iconic role as 'Mad Max' as good as Gibson? Well, here's my review of MAD MAN:FURY ROAD to find out.
The film begins in the desert wastelands of a very sad, chaotic, and scary future where gasoline and water is rare and considered the highest commodity. People will fight and kill for such precious things. The future population is scarce and most are suffering from birth defects, illnesses, and some even need transfusions to stay alive. Mad Max (Tom Hardy) is traveling across the desert still mourning the loss of his wife from many years ago and battling inner demons of those he fought, lost, and let down in the past. It's a feast or famine type world and the only rule is to survive. There are evildoers in the desert too who want what you have and they don't ask questions. Max is on the run from a band of desert 'War Boys' who imprison Max and use him as a "blood bag" for War Boy Nux (Nicholas Hoult) to stay alive. Strapped in front of a crazed-jacked up futuristic car and having his blood transfused into Nux by a tube, it appears Max has made his last run.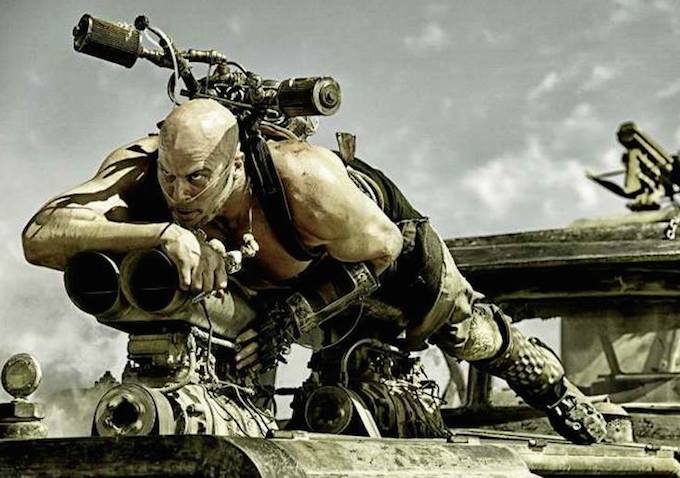 Meanwhile, in the desert city of Citadel, a place run by the evil Immortal Joe (Hugh Keays-Byrne), a mutated, gas masked breathing, villain who controls not only the city but controls the most precious of all commodities: Water. He lets his people have it very scarcly. When one of his drivers, Furiosa (Charlize Theron) takes her War Rig to go out and collect gasoline like normal, Joe realizes his five wives (meant particularly for breeding), are gone. He realizes Furiosa has kidnapped them and he sets out across the desert to find them. Along with Joe are not only his soliders of War Boys, but he has soldiers from Gastown and Bullet Farm join him in the chase.
However, Furiosa has not "kidnapped" the brides, but simply rescued them to take back with her to her homeland and live in peace. Her "Green Place" is her only hope left of a peaceful future. As she races across the desert, battles begin with the most amazing car chase ever on film! Max is able to get free and partners up with Furiosa on her quest to save the brides and get to their destination while not being caught or killed by the huge army behind them. Soliders with guns, bombs, flame-throwers, poles, blades, and every weapon you could possibly imagine including a mutant who plays a flame throwing guitar! It is a long, battling race of survival and it's up to Max and Furiosa to save the day. To find out how this epic desert racing battle ends, I HIGHLY recommend…MAD MAX:FURY ROAD!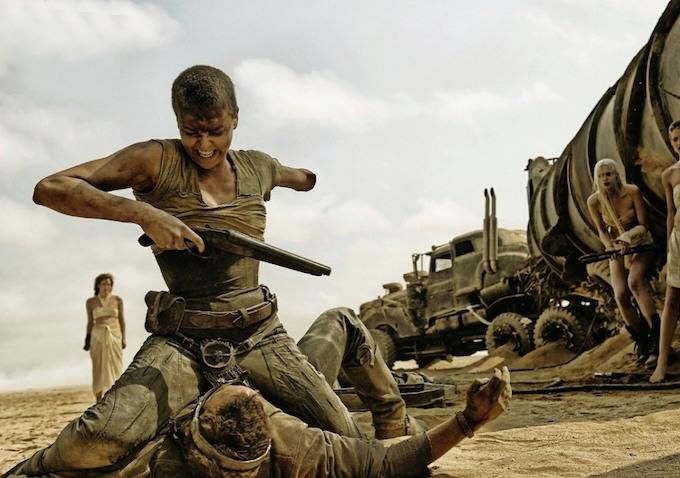 I have to admit, when I first heard of a new Mad Max film I had my doubts. Without Mel Gibson, 30yrs since the last film, and Tom Hardy taking over as this iconic character; would it work? Well, I'm here to tell you..it does!! I loved everything about this film! The cast: Tom Hardy pulls off the main character very nicely. He's tough, smart, and even though he had very little dialogue he still did a great job. The 'War Boys' and 'Immortal Joe' were very cool villains (which is very rare these days it seems). Not only were they mean, but pretty scary as well. The make-up and costumes were very impressive. However, the one character that really made the film, 'Furiosa' (Charlize Theron).
Not only was she tough, a total match character wise for Max, but she had heart. I truly hope they bring her back for the next one. The sets in the film were beautiful to look at considering it was desert wastelands. And the highlight of the film: the vehicles!!! Not only were they amazing to look at, but without question the most impressive and creative cars and trucks created for any film in the history that I've been watching films. It was as if the makers of the film put a bunch of crazy ideas in a hat and built whatever they pulled out! It truly is something to see in the theater. Seeing this film on the big screen was amazing and very enjoyable.
You really felt you were right there with them. And I have to say one more time, that flamethrowing guitar is the best prop since the lightsaber in Star Wars! All in all, this was a lot of fun, great action, it had a good story, interesting characters, and basically, a "sequel/reboot" that was done right!
Caution to young movie goers, there is a ton of violence and gore. One more thing, there are a few "nods"/cameos from the other Mad Max films sprinkled throughout the film, look close…finding them is half the fun. So, if you want a REALLY action-packed, fun, and entertaining film to see this summer, go see MAD MAX:FURY ROAD!!! And yes, a fifth film is already in the works. MAD MAX:WASTELANDS coming soon
RANK: 8.5/10
Regista/Director: George Miller
Cast: Tom Hardy, Charlize Theron, Rosie Huntington-Whiteley
Usa, Australia 2015
Tags: Charlize Theron, fury road, mad max, mad max 2015, mad max review, post apocalyptic, Rosie Huntington-Whiteley, Tom Hardy