RANK: 9/10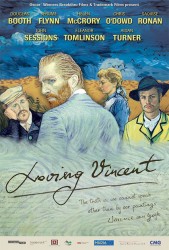 This film is animated, however not the animation of those childrens stories we are use to, and have come to love. Rather, this film is truly done in the style of Impressionist and post-Impressionist artist, Vincent van Gogh. It won several awards, and was also nominated in the Best Animated Film catagory, sadly it lost to Pixar's COCO.
However, it captured MY attention. LOVING VINCENT piqued my interest, and after viewing it, surpassed my expectations. It was not only visually impressive, but storywise, it delved deeper into the bittersweet, and often tragic life of the iconic artist, Vincent van Gogh. This story takes place one year after his death. The question being: Did Vincent van Gogh kill himself (as we have been led to believe all these years), or , was he murdered? This film goes deep into the period just prior to his untimely death. There is much shadow cast upon the circumstances that surround it, and today, through the miracle of forensics, well, the general consensus now is that Vincent van Gogh was actually murdered. However, I suggest you watch this wonderful film, and make up your own mind based upon what YOU see. As I mentioned before, the entire film is done in the style of van Gogh's paintings. It took a crew of several hundred artists, and many who hand painted each and every single piece of art, which then became each frame of the film arranged in sequence.
That alone was simply amazing, and in my opinion, based on that, should have meritted the Oscar for Best Animated film. Can you imagine the painstaking hours to make this beautiful recreation of art? The story follows a postman's son, Armand, who is dispatched to deliever the last letter van Gogh ever wrote to his brother Theo, in Paris. What begins as a simple animated fact based drama, becomes a mystery, surrounded by much speculation, and perhaps an answer to a question that has taken years to solve. As Armand travels throughout Paris, small villages, visiting locations that Vincent was known to have frequented or lived, and searching for answers, from as many who had encountered Vincent, he finally comes to a small village, where the answers lies. To find out, and to see what unfolds in what is truly an amazing film, done so colorfully and indeed, beautifully, I highly recommend…LOVING VINCENT.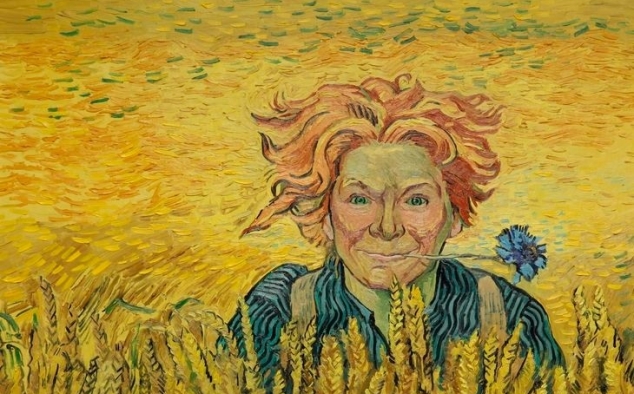 This film is truly an amzing piece of film art. Not only because it is done in the style of van Gogh's works, but it's also a solid and interesting story. It is full of suspense, mystery, love, sadness and yes, it is shot beautifully. It was created with 65,000 frames of paintings on canvas done by 125 artists. The film was written and directed by Dorota Kobiela, Hugh Welchman, and is a Polish production. Based on a 7 minute short film released in 2008, this full-length feature is not just worth your time, but in itself a stunning work of art. If you appreciate film, art, and film as art, a great bit of story telling, this film is for you. One of history's most beloved artists finally has his story told, and sadly, as he was not recognized in his lifetime for his beautiful art, he too was not given the benefit of finding out what was his true demise.
RANK: 9/10
Regista/Director: Dorota Kobiela, Hugh Welchman
Cast: Aidan Turner, Helen McCrory, Saoirse Ronan, Douglas Booth, Jerome Flynn
United Kingdom, Polonia 2016
Tags: Aidan Turner, Dorota Kobiela, Douglas Booth, Helen McCrory, Hugh Welchman, Jerome Flynn, LOVING VINCENT, LOVING VINCENT review, Saoirse Ronan
Posted in Anime by Tony Northrup on March 27th, 2018 at %I:%M %p.