RANK: 6/10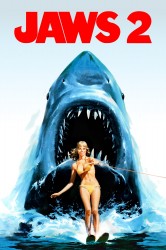 JAWS 2… is the other film that was released on June 16th of the same year, and is a sequel to JAWS, the box office mega hit. This film is the polar opposite to that of the musical I just reviewed. I'm talking about returning to the dark, frigid waters of Amity Island, which was also the setting of the first film. You might be asking yourself, what's so special about this film? Well, besides being the 40th anniversary, it is also a decent sequel, and horror film.
In 1975, Steven Spielberg changed cinema history with his box office mega-hit JAWS, based on the number one bestselling book of the same name. The film was considered the official first 'summer' box office film ever made. It has also been coined the official kick off film of summer ever since, and thousands watch this film every year, just to recapture that feeling of anticipation of the long hot days ahead. The 4th of July is one of the days you can count on finding an airing of the original JAWS, and JAWS 2 for sure.
In 1977, Spielberg was asked to return to direct the sequel, JAWS 2, with hopes of hitting box office gold twice, but Spielberg said NO, for several reasons. Firstly, he had began filming his science fiction hit, CLOSE ENCOUNTERS OF THE THIRD KIND, and secondly, and most importantly, Spielberg had a different vision of what the new film should be. He wanted to do a prequel to the original JAWS, which would've been about the story Quint told surrounding the events of the USS Indianapolis. There were considerable problems with the new script, as well as on-set disagreements, so Spielberg left the project. Director Jeannot Szwarc took over, and filming began again.
Actor Roy Scheider returned as Chief Brody, as well as co-stars, Lorraine Gary as Brody's wife Ellen, and Murray Hamilton, who played Mayor Larry Vaughn in the original first film. There are also a few other familiar faces from the first film, however, actor Richard Dreyfuss as 'Hooper' did not return since Spielberg wasn't back to direct. Composer, John Williams returned to do the famous theme, and soundtrack. Roy Scheider literally begged to be released from the film, but due to contractual obligations, he had to return, or be sued.
The story is simple: another shark terrorizes the shores of Amity Island, leaving locals and summer vacationers at it's mercy. Chief Brody is once again witness to a multitude of attacks, and is more that certain it is the work of a killer shark. When Brody tells the Mayor, and other officials of Amity Island, they need to do something about the situation, he is fired as Chief of Police. The island had already suffered from the first shark attacks in the first film, and needs to rebound and recoup it's losses. With the new Amity Hotel opening, the locals can't afford another shark scare. When Brody's teenage son goes boating with his friends, terror begins again, and it is up to Brody himself to kill the shark.
I personally feel this wasn't a terrible sequel. It didn't of course, make the box office dollars, or film history like the first film, however, the feel is there. With a few good scares, excellent soundtrack, it was still fun. Even though it lacks in originality, and has what I call a cheesy ending, I did enjoy it. One thing that has always bothered me, is that in the first film, the shark overtook Quint's sizeable boat, the ORCA, in a few minutes, yet in this film, the shark couldn't take down a few catamarans, and several small sail boats? Well, it still made for a fun watch, and two more sequels followed: 1983′s JAWS 3-D, and 1987′s JAWS: THE REVENGE, but JAWS 2 would be the better of those, and of course, 1975′s JAWS, would, and will always dominate summer box office films.
If you haven't seen this film, or you want to relive a decent horror sequel, I recommend … JAWS 2.
RANK: 6/10
Regista/Director: Jeannot Szwarc
Cast: Roy Scheider, Murray Hamilton, Joseph Mascolo, Lorraine Gary
Usa 1978
Tags: JAWS 2, JAWS 2 review, Jeannot Szwarc, Joseph Mascolo, Lorraine Gary, Murray Hamilton, Roy Scheider
Posted in Drama by Tony Northrup on June 26th, 2018 at %I:%M %p.