RANK: 9/10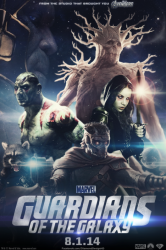 The Marvel comic book superheroes have been dominating the box office for quite awhile now. Everything from Iron Man to Captain America to The Avengers, but now, a new superhero film has been released like no other. When I first watched Guardians of the galaxy I couldn't help but think about the old 1980′s Scifi Adveture/Comedy films like Ice Pirates, Adventures of Buckaroo Banzai, & even Spaceballs, but Guardians of the galaxy is a lot better than those films.
The film begins in 1988, where we meet a young Peter Quill, who is saying good-bye to his dying mother. Running outside in tears and grief, Peter is abducted by space pirates known as, Ravagers. Fast forward 26yrs. later, an older Peter Quill (Chris Pratt) is far from a hero. More like a "futuristic version of Indiana Jones" hunting down space artifacts to sell. When Quill is caught, but later escapes, he is unaware a bounty is put on his head! Bounty hunters Rocket, a gun toting raccoon (voiced by Bradley Cooper) and Groot, a walking/talking tree (voiced by Vin Diesel) are after him, but so is Gamora, a sexy green one-woman powerhouse (Zoe Saldana).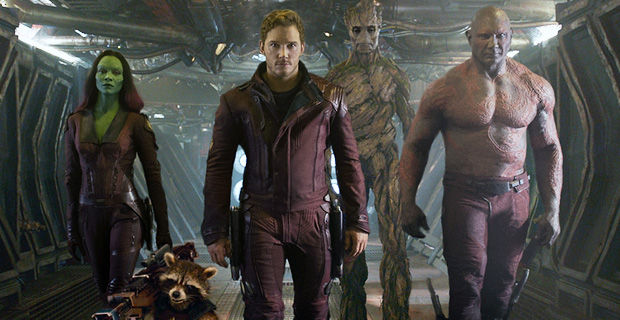 When they all get caught and sent to prison, they know they must come together (along with prison inmate turned partner in crime, Drax – played by Dave Bautista) to save the galaxy from Ronan (Lee Pace) and Thanos and retrieve the powerful and mysterious orb. To find out of the 'Guardians' indeed save the galaxy (if they don't kill each other first), I highly recommend Guardians of the galaxy.
I haven't had this much fun at the movie theater in a long time. Easily compared as a "Star Wars for this generation", it is safe to say that is very true. This film has everything: A great cast of heroes that you immediately fall in love with, a superb supporting cast of actors like John C. Reilly, Glenn Close, Karen Gillan, Michael Rooker, and Benicio Del Toro, special effects that will blow you away, tons of humor and inside jokes about the 1980′s, and one of the best musical soundtracks this year.
This "motley crew" of rag-tag misfits pull your heart strings while kicking butt at the same time. Without question one of the very Top Best Films of 2014. And remember, just like all Marvel films, there is a scene after the credits.
RANK: 9/10
Regista/Director: James Gunn
Cast: Chris Pratt, Bradley Cooper, Vin Diesel, Zoe Saldana, Lee Pace
Usa 2014