RANK: 7/10
I don't do reviews that often on horror movie sequels, but once in awhile a film is quite personal with me and I enjoy talking about. Today, April 13th, 2014, is the 30th Anniversary of Friday the 13th part IV: the final chapter, one my favorites in the franchise and one of my favorite movie memories.
The original 'Friday' film, was release in 1980 and directed by Sean S. Cunningham. It was a time in horror film history that the "slasher genre" was beginning to take full steam with the success of Halloween in 1978. Almost every type of "slasher" came out after that from holiday's to events ("Prom Night", "Graduation Day"), and many others inbetween. The 'Friday' franchise is ranked 7th in the Top 25 Biggest Film Franchises of All-Time! Not too bad for a cheesey series about a crazed killer at a summer camp. After the success of the original 'Friday' film, it was just a matter of time before a sequel was on it's way. The teenage movie goers in the early 80′s wanted more! And more is what they got! It was Part 2 that Jason took over the series and every other summer he would return to scare us and find gory and different ways of killing new innocent teens out to have a good time at the lake.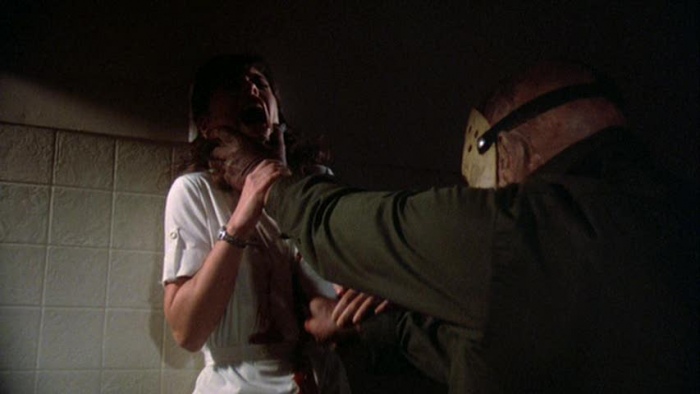 However, it was April 13th, 1984, that the 'Friday' fans were about to get a major shock! The title of the latest film said, "The Final Chapter"! What? Jason is gonna die, for real!? Little did we know that was just a way for the studios to bring in more money to get fans to see if Jason was really gonna die or come back again, and again, and again! Friday the 13th part IV: the final chapter was a huge success. It grossed over $32 Million, which in 1984 was big money. I can remember clearly when I saw it in 1984, I was 12yrs old, a fan of the franchise, living in Hollywood, CA. I was scared out of my wits, but knew right then and there once the credits began to roll that Part 4 was and always will be my favorite in the franchise.
The film was directed this time from Joseph Zito and the story of Part 4 is simple: It takes place later that night after the events of Part 3, with rescue and ambulance workers and the police coming to collect the bodies that Jason had killed. I thought picking it up where Part 3 left off was a great start of the film, it felt more..real to me. Jason's body is taken to the morgue and as we all know, you can't keep a good killer down for long. Jason is back in business and heads back to the lake he calls home. Once he's there, a new group of kids move into a summer house for the weekend of partying, with the the Jarvis Family in a home right next door. The killings begin, this time Jason seems more..pissed off than before, my guess then and now is he wants revenge now more than ever for having an ax put in his head last go around. The killings are more violent, gorier, and scarier than before. However, this time around Jason has not just the typical "last girl standing" hero to take him down (in this case it's "Trish Jarvis" played by Kimberly Beck), but her little brother, Tommy Jarvis (played by Corey Feldman).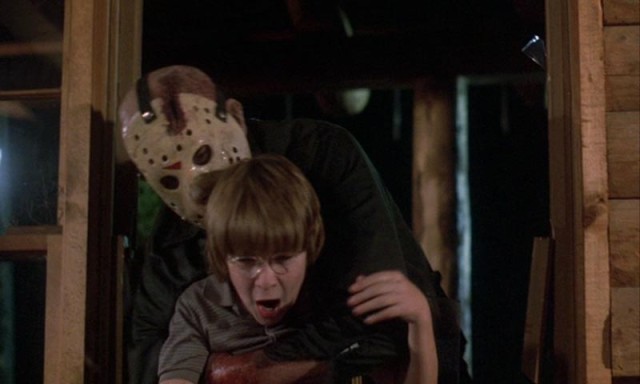 With a sort of "David & Goliath"-type battle, Tommy indeed takes Jason down in what we think is the 'final' time (hence the title of the film). However, the "surprise" ending makes the audience feel that it leaves the 'Friday' franchise door open to a "next generation" storyline with Tommy. It would be the failure of FRIDAY the 13th PART 5: THE NEW BEGINNING in 1985 that would prove that idea was BAD! And it would be in 1985, to resurrect the franchise with 'PART 6: JASON LIVES!'.
For the rest of the 1980′s, the 'Friday' franchise would live on for another 4 sequels after Part 4. The box office money machine would run dry by the 1990′s when Paramont Studios sells the franchise to New Line (home of the NIGHTMARE OF ELM ST. franchise). After very disappointing sequels and a Freddy vs Jason crossover, the franchise goes back to Paramont where it belongs. With 12 movies total now, TV show, comic books, tons of merchandise, a "reboot" and now a sequel to that reboot in 2015, and grossing over $465 Million plus – it is understandable why these films just keep going and going….to scare us, to ask for more, and to not take them so seriously and just have fun! So, Happy 30th Anniversary Friday the 13th part IV: the final chapter!
RANK: 7/10
Regista/Director: Joseph Zito
Cast: Peter Barton, Corey Feldman, Kimberly Beck, Crispin Glover
Usa 1984
Posted in Horror by Tony Northrup on April 15th, 2014 at %I:%M %p.