RANK: 9.5/10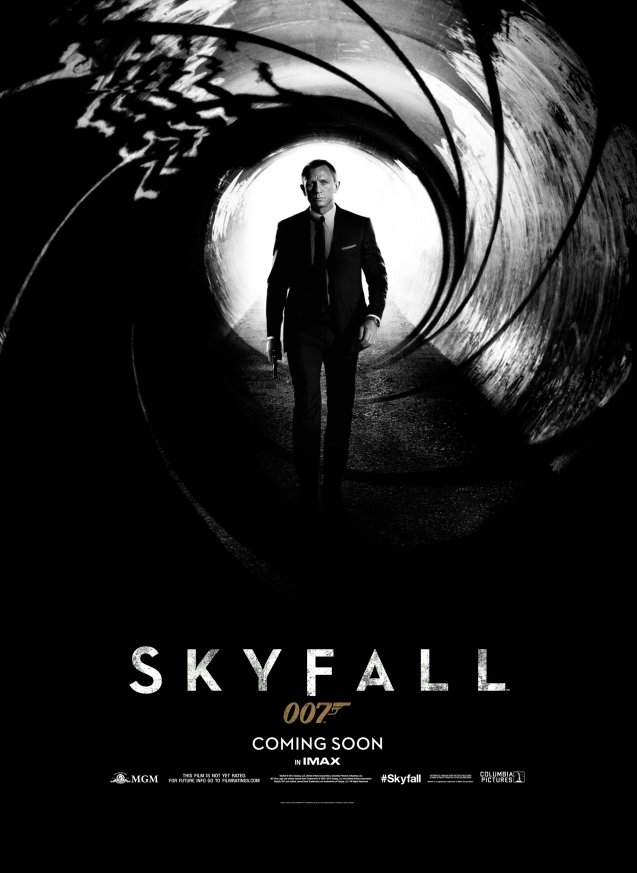 There have been many film franchises that have come and gone. Some of these franchises have continued to entertain us for many years, but none have lasted as long as James Bond! One of the most iconic film characters of all time. This has been the longest continually running film franchise of all time and 2nd (behind the Harry Potter series) to make the most money at the box-office.
It was writer, Ian Fleming who brought this action-packed super spy from book to the big screen in 1962 with the film DR. NO. James Bond films have grossed over $5 billion dollars at the box-office and with 23 films to date, I'm pretty sure we haven't seen the last of James Bond. In 2012, we mark the 50th Anniversary of the James Bond films. With Producers Albert R. Brocoli and Harry Saltzman giving us some of the best action and entertainment put on screen, it was in 1975, Brocoli went solo producing the films. In 1995, it was Brocoli's daugher, Barbara who joined Albert Brocoli's step-son to begin producing the franchise and continue it on today.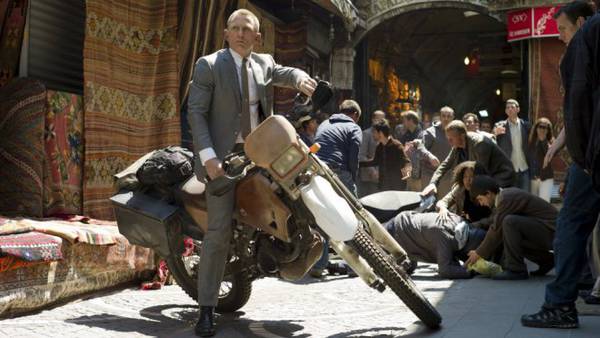 The first actor to play James Bond was the iconic; Sean Connery. With five Bond films under his name ('Dr. No'('62), 'From Russia With Love'('63), 'Goldfinger'('64), 'Thunderball'('65), 'You Only Live Twice'('67), Connery is the most loved actor to play the Secret Agent 007 – License to kill. However, by the time he finished his last Bond film, he wanted out. So, the producers wanted Roger Moore to play the role, however, due to some "red tape" and location problems, Moore signed on to do a different film instead and the producers brought in actor, George Lazenby. He was a male model at the time and 'On Her Majesty's Secret Service'('69) was his film debute. With the lack of response to the new Bond, it would take a large paycheck to bring Sean Connery back to play 007. It was 'Diamonds Are Forever' in 1971 that brought the original Bond back to the big screen. However, it would also be his last. It was in 1973 that a "new" actor play Bond,  enter British actor, Roger Moore. Moore played Bond in 7 Bond films, the most for any one actor to play the same character. Beginning with 1973′s, 'Live and Let Die', 'Man With the Golden Gun' ('74), 'The Spy Who Loved Me' ('77), 'Moonraker' ('79), 'For Your Eyes Only' ('81), 'Octopussy' ('83), and 'A View to a Kill' ('85). However in 1983, the creators of the Bond franchise wanted Sean Connery back one last time. And just like the title says, 'Never Say Never Again', he WAS back! And not just as James Bond, but it took a paycheck of $3 Million to do it. Unfortunately, there were rights and lawsuits involved and the film was not a success nor was it considered part of the franchise, but technically it is.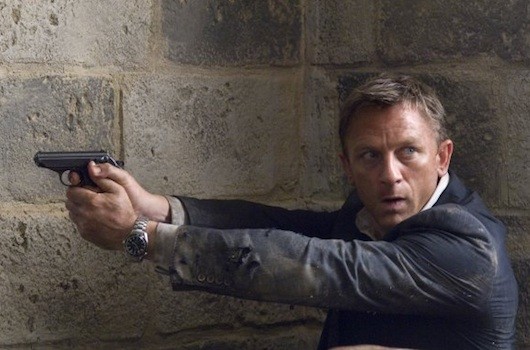 With Roger Moore retired from James Bond, it was time for another actor to take on the role. This time it was British actor, Timothy Dalton. With 'The Living Daylights' ('87) and 'License to Kill' ('89), the franchise was heading downhill. The love for Bond was not there and it took a 6 year break before we would see the secret agent again. In 1995, the time had come to inject some life back to the Bond franchise with a new crew, producers, and lead actor. This time it was British actor, Pierce Brosnan who took on the role. Brosnan played Bond 4 times including; 'Goldeneye' ('95), 'Tomorrow Never Dies' ('97), 'The World is Not Enough' ('99), and 'Die Another Day' (2002). The audiences really took to Brosnan's take on the iconic role and had a very successful run. However, after another break, it wouldn't be till 2006 till we saw a new film and a new Bond. This time the character is played by actor, Daniel Craig. A lot of uncertainty came when Craig's debute of Bond in 'Casino Royale' (2006) hit the screen, especially by die-hard fans and critics. However, it was that fresh take on the character that Craig brought that put life back into the franchise and spawned another film; 'Quatume of Solace' (2008), which carried the storyline over from the previous film. It was then that major problems began to occur. The bankruptcy of MGM and Craig's lack of time to do another Bond film cause big problems for the franchise. After headaches and problems, it was perfect timing for everything to be resolved by 2012 with not only the marking of the 50th Anniversary of James Bond, but a new Bond film to go with it, Skyfall (2012).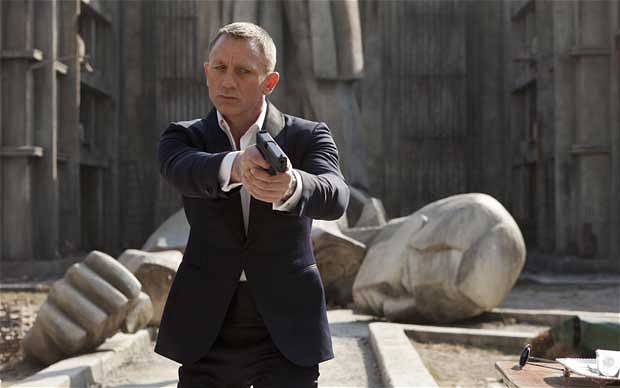 The James Bond franchise has given us some of the best action, most beloved villians (Dr. No, JAWS, Goldfinger, Mr. Big, & Blofeld just to name a few), as well as some of the most beautiful Bond Girls (Honey Ryder, Pussy Galore, Domino, Plenty O' Toole, Solitaire, May Day, Jinx just to name a few), as well as amazing locations from all around the world from Rio to the Swiss Alps to San Francisco. From the deepest depths of the ocean, across great deserts, even to outer space!, Bond has always caught his villian, gotten the girl, and saved the day and mankind all in the name of Queen and Kingdom. As long as there is a world to be saved, you can count on Secret Agent 007 James Bond License to Kill to be on the job. Now, here is the latest James Bond film and my review of Skyfall.
It is the return of Daniel Craig as 007 James Bond for the third time in the 50th Anniversary Bond film; Skyfall. This time, Bond must save his own people. When a computer drive get's taken with the list of all the Secret Agents on it, it is up to Bond to retrieve it.  However, while an action-packed opening sequence put's Bond in danger, he is takin out by bullet and never heard from again…or so we thought. While taking a break from the spy world, Bond see's a report on the news about an attack on MI6, the 00 headquarters and his fellow spies being killed off. He also realizes this puts "M" (played by Judy Dench), in harms way. Bond comes out of hiding and begins his search for this spy killing villain, Silva (played perfectly by Javier Bardem), right in his own backyard. What Bond and "M" don't know is, Silva has a score to settle and like the saying goes: "This time it's personal". It is up to Bond, "M", Gareth Mallory (played by Ralph Finnes), and the new "Q" (played very well by Ben Whishaw) to solve this mystery and why Silva wants "M", Bond, and all of MI6 … dead! To find out, I highly recommend Skyfall.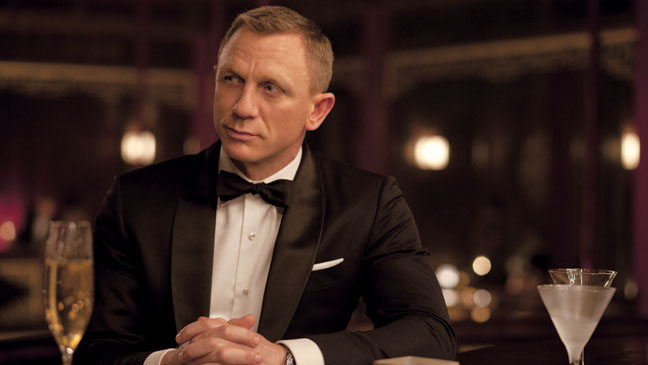 As a die-hard Bond fan, I loved this film! Not just because I'm a fan, but because it was done perfectly to go with the 50th Anniv. of the franchise. If you enjoy all the other Bond films, you will catch the "nods" to all the other films within this one. Finding them is half the fun. I think Craig is on top of his game as Bond in this one and there are plenty of surprises all around. I think the new "Q" was very well played, but it is Javier Bardem playing the villain, Silva that makes the movie so well. The first scene with Bond and Silva together is about as classic as you can get and one of the best Bond film scenes in the franchise. The film held my interest, was action-packed, had exotic locales, with beautiful Bond girls, and it is a very personal story in the franchise. Without any spoilers, that's all I can say other than, go see Skyfall in theaters this holiday season and see why  " … nobody does it better … " like James Bond.
RANK: 9.5/10
Regista/Director: Sam Mendez
Cast: Daniel Craig, Judi Dench, Ralph Fiennes, Javier Bardem
Usa, Inghilterra 2012
Posted in Action and Top movie by Tony Northrup on December 6th, 2012 at %I:%M %p.