RANK: 8.5/10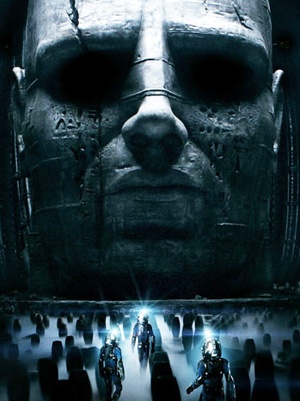 Well, summer blockbuster season is on it's way. There's been some hits and some misses so far, but the season is still young and anything is possible. For me, I can safely say I have seen what just might end up being my Favorite Film of 2012. That's a bold statement considering there's still many more films to still come out, but when I walked out of the theater from seeing Prometheus, it was the first thought I had.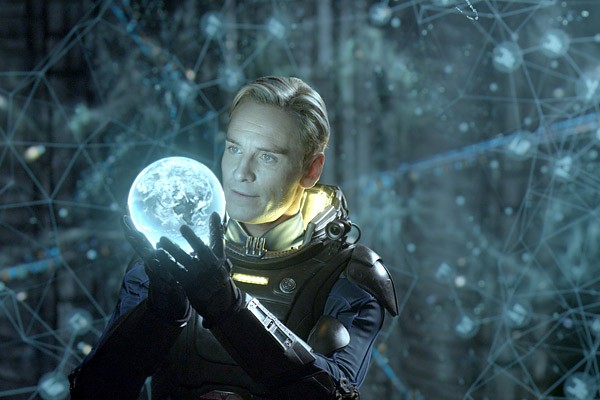 I'm usually good at these things, but I have a feeling I won't be changing my mind. So, for such a bold statement as calling it my Favorite Film of the Year, I should be able to back that up, right? Well, I'm going to sure try without a single spoiler. Prometheus is directed by Ridley Scott, who 3o years ago brought us one of the classic and greatest visual SciFi films of all time; Blade Runner. It seems fitting 30 yrs later he would bring us one of the most stunning visual and mind-blowing films in a long time. Ridley Scott is the Christopher Nolan of Scifi. The man knows how to not just WOW! us, but transport us into another world and truly make you feel that you're really there! When I saw Prometheus in the theater, it was dark, cold, quiet, and mysterious – just like in space that he protrays, it is making the audience as sucked into the film as possible. He has once again done that. It may be Blade Runner's 3oth Anniv. this year, but it is Scott's other Scifi classic that is what is the hot topic right now when it comes to Prometheus. So, the question is; Is it a Reboot or Prequel to Alien? Well, let me try to explain this.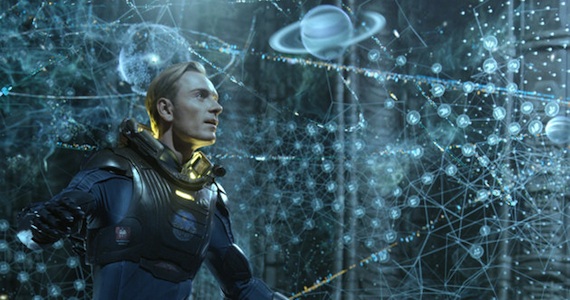 Take Jason from the Friday the 13th films for example. Put Jason in an atmosphere where there is cabins & woods and a lake, but does that make it a Friday the 13th film? The atmosphere is the same so it must be, right? Not exactly. You put him in a place he's known for, doesn't mean it's a sequel or prequel unless it's said so by the writer and director. Is Prometheus an Alien film?
For me Prometheus is something more than just a Scifi film. However, before I get into that, here's the story. In the year 2089, an archaeologist, Elizabeth Shaw (played by Noomi Rapace), and her scientist partner, Charlie Holloway (played by Logan Marshall-Green), are on an expedition and find a drawing inside a cave that they believe represents life outside of Earth. They call them "Engineers". Later, in 2093, CEO of Weyland Corp., Peter Weyland (played by Guy Pearce), funds an expedition in space on a spaceship called Prometheus, which is out to explore what is to believed possible lifeforms on the moon of LV-223. Flying the ship all those years is David (played by Michael Fassbender), who is unlike any Android on screen you've ever seen before and makes the film. Once they reach their destination, David wakes up the crew from their deep space sleep including Shaw and Holloway. It is the tough, Meredith Vickers (played by Charlize Theron), who runs the ship and doesn't quite agree with the mission until proven otherwise. Once their quest begins, the crew of the Prometheus finds more than they bargined for. What do they find? How is it a threat to mankind? And what is the true secret behind this expedition? To answer these and many other questions, I highly recommend Prometheus.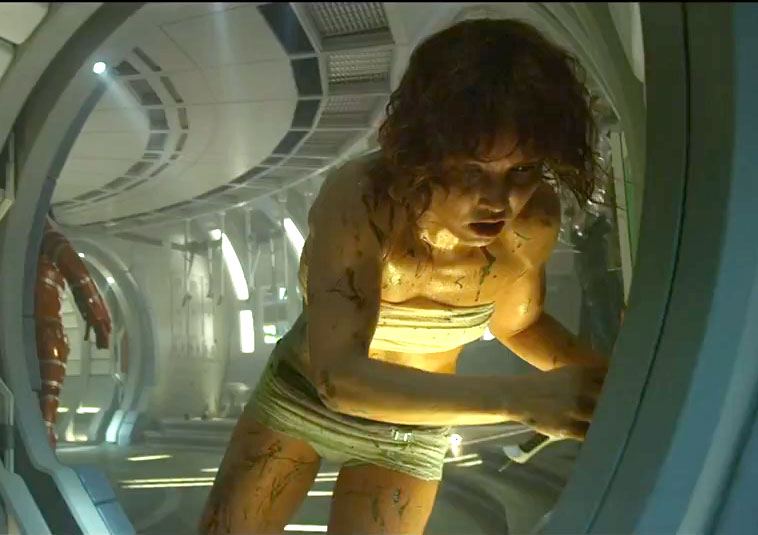 The review seems short, doesn't it? It seems there should be much more about the film and there is, however, films like this go with an unspoken word of "You can't talk about it unless you've seen it" mindset. Much like the film, The Sixth Sense when it first came out, word got around you just don't give away the jaw-dropping ending. Well, for Prometheus it's almost the whole film you can't speak of unless you've seen it. There are a few reasons for this. Granted, the film is dark, mysterious, full of suspense, and captures "old school Scifi" with a modern touch. Sitting in the theater, I couldn't help but feel like I was sitting watching 2001: A Space Odissey or some other classic Scifi film of that era. The CGI is there, of course, and the sets and space ship are close to Alien and Blade Runner, but there's more to all of this than that. There is a plot, of course, however, there is a meaning within the message within this film. A deep, dark, spiritual meaning that if you didn't "get it" you didn't get the movie. You were too busy looking instead of feeling the film. You were too busy trying to find the possible Alien connection to the film instead of focusing on what it really is about. I "got it" just like I "got" the film Inception.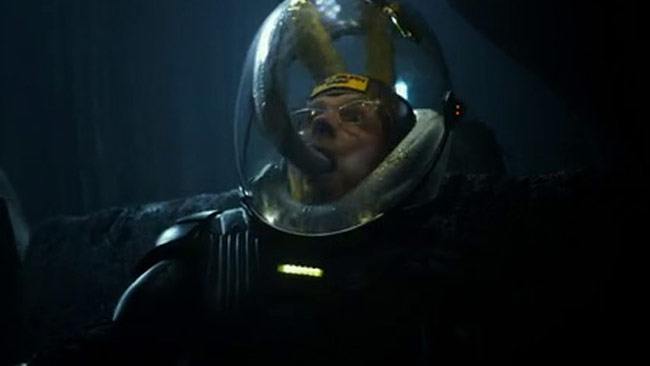 When I saw that film in the theater, people walked out saying it was "stupid" and they didn't "get it" and it went way over their heads. Personally, I feel Inception is on a level of filmmaking some of us weren't ready for, but it's also what makes Christopher Nolan a master of his craft. Point is; I feel the exact same way over Prometheus and what Ridley Scott was trying to say. Which is; Who came first, God or aliens? Did God create Aliens first or Humans? Did Aliens create Humans or are Aliens and Humans from the same pattern? Who should we really be praying to at night; God or aliens? And what is really the source of the creation of man? I felt that all things we've heard before, Darwins Theory, and anything else – chuck it out the window because this is gonna get heavy folks. All of this is what these characters set out to find out, but do they? This is what makes this film a cut above the rest. It's deep. It's powerful. It's entertaining. It's a "thinking man's film". I believe in films like this that make you use your brain instead of lose brain cells. I don't feel one should go in trying to spend the whole time waiting to see if it's an Alien film or not, you need to focus on the meaning of the film and that's what makes this film so great in my eyes.
RANK: 8.5/10
Regista/Director: Ridley Scott
Cast: Noomi Rapace, Michael Fassbender, Charlize Theron, Idris Elba, Guy Pearce, Logan Marshall-Green, Sean Harris, Rafe Spall
Usa 2012