RANK: 7.5/10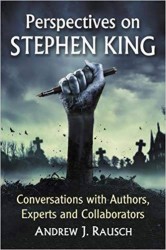 PERSPECTIVES OF STEPHEN KING is a collection of interviews that give many different aspects of Stephen King. The introduction at the beginning of the book was welcoming, friendly, and made you feel like you were about to go on a great ride.
In the book, there are 17 interviews total with well-known authors such as; Bev Vincent, Robin Furth, Stephen Spignesi, Tyson Blue, Richard Chizmar, Lee Gambin, Stewart O' Nan, Kevin Quigley, and many others. Some interviews I found very interesting, exciting, and full of enthusiasm! I enjoyed a lot of the behind-the-scenes stories that were told as well as some of the personal stories these authors share from their own personal experiences with Stephen King. I really liked how King's works were broken down, analyzed, and discussed as if you were right there in the room with them having a great conversation about your favorite author. There were some things in these that even I didn't know about Stephen King and was fun to learn. Andrew really knows how to ask the right questions and get answers fans would want to know.
I found PERSPECTIVES OF STEPHEN KING a very enjoyable, MUST HAVE book for all Stephen King fans who want to learn, yet have a different perspective of the author and look past the books and films. I would recommend this book also to new fans of Stephen King's works because it will help them appreciate him even more so. This is truly a great collection of interviews fun and informative, some great behind-the-scenes stories, and solid, detailed questions that do the job. For a fun and interesting book, I recommend, PERSPECTIVES OF STEPHEN KING!
RANK: 7.5/10
Regista/Director: Andrew J. Rausch
Tags: Andrew J. Rausch, PERSECTIVES OF STEPHEN KING, PERSECTIVES OF STEPHEN KING review
Posted in Interviews by Tony Northrup on April 26th, 2019 at %I:%M %p.