RANK: 8/10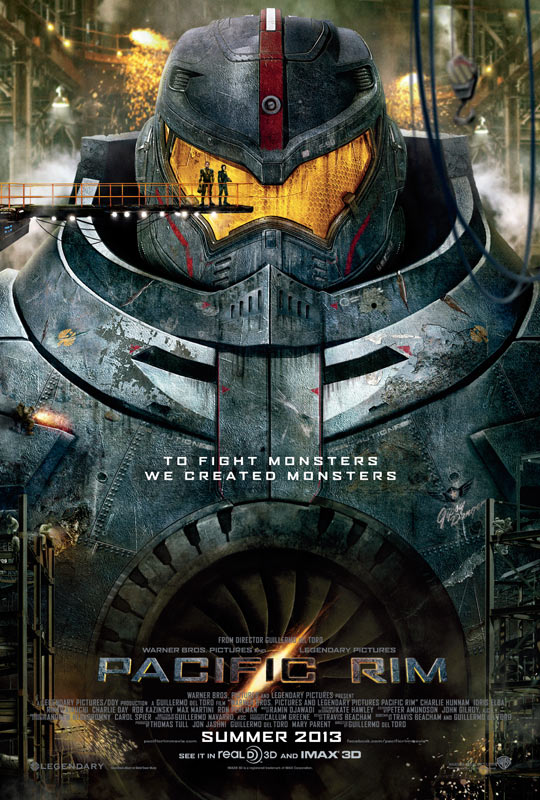 Every summer as far back as I can remember, there has always been one summer film that stands out above the rest. In 1975 it was Jaws, in 1977 Star Wars, in 1982 E.T., 1993 Jurassic Park and so on. This summer there is one film I believe will be the BIG blockbuster of 2013. That film is Pacific Rim.
This is a throwback to the old monster films of the 50′s & 60′s like Godzilla, Mothra, and Rodan with robots for a new generation of movie fans. Older generation movie fans will immediately remember what it was like with over-sized creatures from their childhood once they see this film of a "modern day monster flick" like Pacific Rim.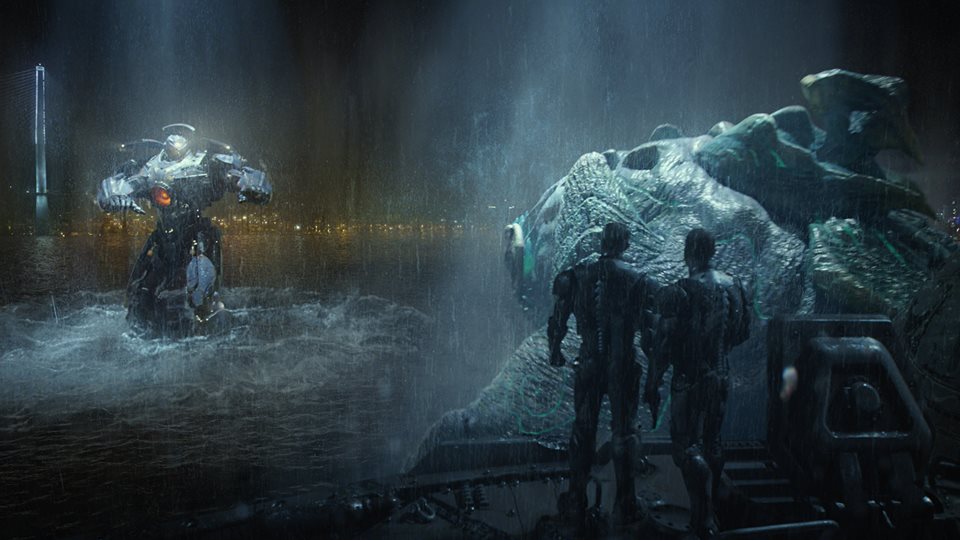 The story takes place in the not to distant future where very over-sized creatures called, Kaijus, have come to attack the world and destroy us all. After city after city is destroyed and millions of lives taken, the human race knows they must fight back if they want to survive. They build what are called, "Jaegers", over-sized robots that run by two pilots that are mentally linked together as one used to fight the good fight against these beasts. However, pilot Raligh Becket (Charlie Hunnam) and his brother are attacked by one of the beasts and Raliegh loses his brother, the joined countries from around the world feel the Jaegers aren't doing their job right as even more Jaegers are losing the fight and the program is shut down. The remaining Jaegers are shipped off to Hong Kong till further notice while work begins on the "Wall of Life", a wall tall enough to keep the beasts from attacking the cities around the world.
When the attacks begin again worse than before, Raliegh is called back to help fight yet again, but with a new co-pilot, Mako Mori (Rinko Kituchi), a female who wants nothing more but to be given that first chance to pilot a Jaeger. Meantime, Dr. Newton Geiszler (Charlie Day) hooks up a machine that can read the mind of a creatures captured brain and realizes that these beasts have even bigger plans! He must find another stored brain to try the experiment again and the only one who would possibly have one is an underground gangster, Hannibel Chau (Ron Perlman). Armed with a Russian Nuclear Weapon, the Jaegers set out to do battle once again in hopes to end these beasts once and for all, but not all plans go smoothly do they? To find out and have a great time at the movies, I recommend … Pacific Rim.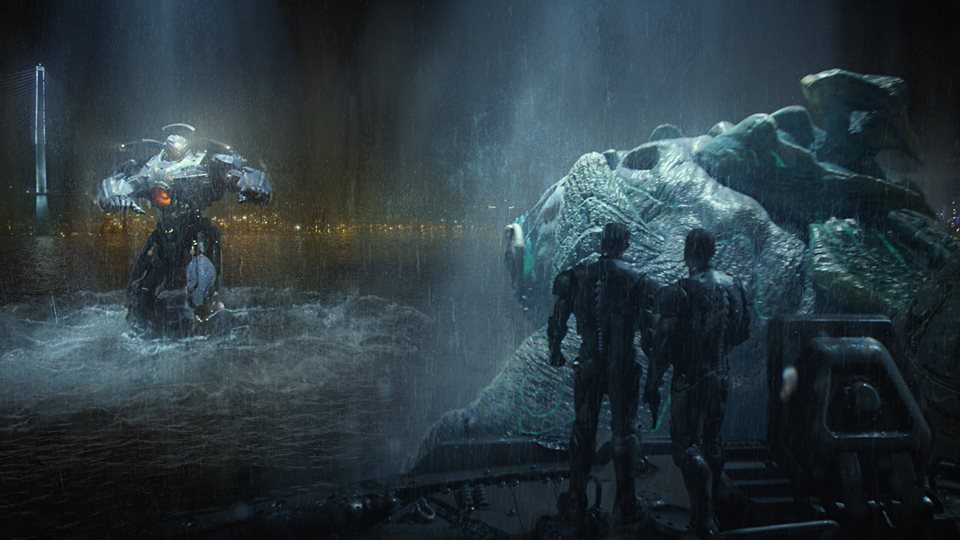 When you see nothing but Superhero movies, sequels, and remakes dominating the box office, it is really nice to go back to the old ways of summer films. This is an over-sized modern day monster film that not only deliverers, but is a lot of fun. The F/X in this film might be all CGI, but it is quite eye-popping! Fans of the show Sons of Anarchy will be happy to know two if it's actors are in this film (Jax and Clay). This was a lot of fun to watch, a real thrill ride and worth your time. The only drawback is that it is a bit long. It could've easily been cut 20 minutes and still be fine. There is a scene during the credits worth staying for as well. Some films aren't meant to be taken seriously, just to have a fun time … Pacific Rim is one of those films.
RANK: 8/10
Regista/Director: Guillermo del Toro
Cast: Idris Elba, Charlie Hunnam, Ron Perlman, Charlie Day
Usa 2013
Posted in Action and Sci-fi by Tony Northrup on August 3rd, 2013 at %I:%M %p.