RANK: 8/10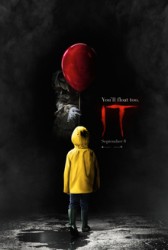 IT is now worldwide on the big screen! However, this is not the first adaptation of this terrifying novel, the original was a television mini-series re0leased in 1990, starring the great Tim Curry as, Pennywise the Clown. Stephen King has entertained many of us for over 40 years, with some of the most monstrous villains of all-time, but ask any King fan, and they'll tell you that Pennywise (IT), is the ultimate boogeyman!
The novel IT, is an 1,138 page fright mare of epic proportions! The 1990 TV mini-series was a hit, and keeping in step with the times of remakes/reboots, you just knew IT would eventually become a theatrical release. The story surrounds the lives of 7 children, circa 1988/89, however in the book, the story takes place in 1957/58 in Derry, Maine, but this adaptation is revamped to bring it up to date. Derry is a town that just feels bad! It has a history of bad events that date hundreds of years in the past. In this town, there is a killer on the loose, and no child is safe. He appears in their dreams, is the source of their fears, and is the worst nightmare come true, for all children! He can take any shape, but has chosen to appear to all as a…CLOWN… and why not, clowns are supposed to be fun and safe, right? Not this one, he is nothing short of maniacal, and murderous!
When Bill sends his little brother Georgie out in the rain to play with the paper boat he made for him, little did he know something evil awaits him…in the sewers! Bill and his friends , Ben, Bev, Eddie, Richie, Stan, and Mike, are each being terrorized by Pennywise, the Dancing Clown (played by Bill Skarsgard), all summer long. The Losers Club, find themselves on Pennywise's home turf, the sewers below the town of Derry. There, and only there, is where they must go to try and defeat Pennywise. I recommend seeing Stephen King's film…IT.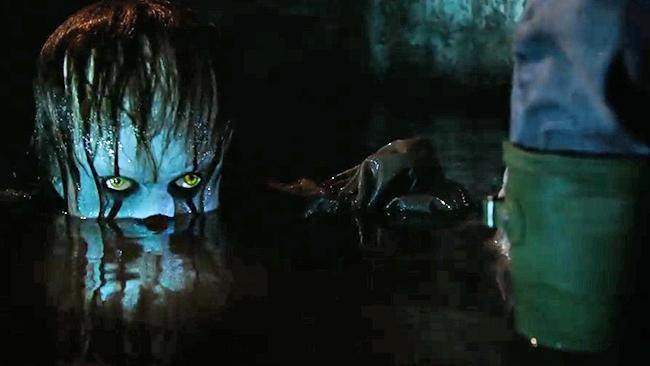 As a huge Stephen King fan, I was a little apprehensive about seeing yet another adaptation, so close on the heels of the hugely disappointing adaptation of Stephen King's series novel…The Dark Tower. I had enjoyed the 1990 TV mini-series of IT, but I think most fans can agree, an up-dated version was due. To bring the story out of the 1950′s to a more current time, circa 1980′s, made for a wider range of audience appeal. In the story, Pennywise returns every 27 years, which means when part 2 of this film returns in 2019, the film will pick up 27 years after for the Losers Club, now adults. I really enjoyed the choices of this segments young cast of actors, particularly Finn Wolfhard, who is cast as Ritchie, ,and is also the main character in the Netflix series, Stranger Things. Jack Dylan Grazer (Eddie), was another that impressed me as well. As far as Bill Skarsgard's, Pennywise the Clown/IT, he was considerably darker right from the start than that of Tim Curry's Pennywise/IT, from the 1990 television mini-series, who was more innocuous in appearance, more approachable, however, became as maniacal once he lured you in.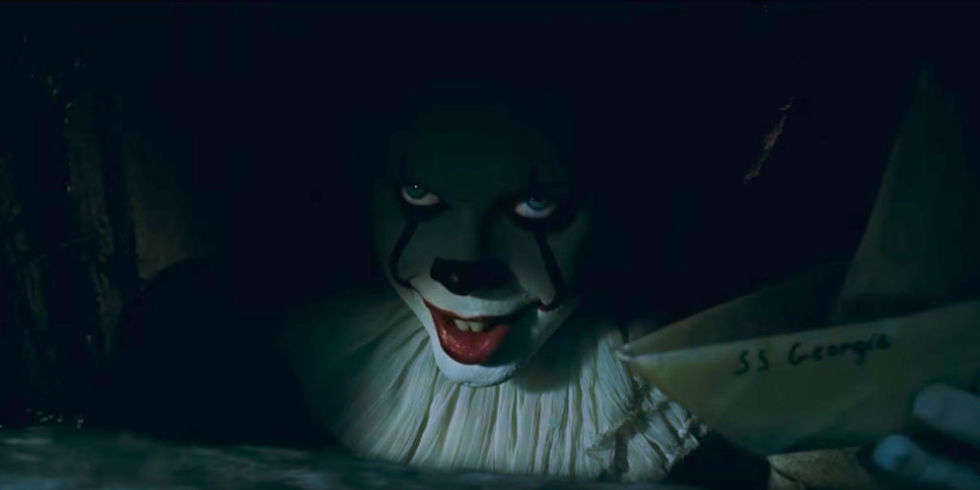 In my opinion, he was, and still is the only true Pennywise, but Skarsgard too has his moments. I was happy to see that this big screen version touched upon some of the more important parts of the book, that the television series left out. The Well House scene, and the more detailed end scenes, were definitely added bonuses. This for sure is one of the better King adaptations in awhile. Director Andy Muschietti, is preparing to cast, and film, part two of this lengthy novel, in hopes of a 2019 theater release. You can bet I'll be there! So, if you want to start your Halloween film fest a few weeks early, and see a really well adaptation from novel to film, of a truly frightening story, then I wholly suggest that you go and see the new Stephen King's IT.
RANK: 8/10
Regista/Director: Andrés Muschietti
Cast: Bill Skarsgård, Owen Teague, Jaeden Lieberher, Finn Wolfhard, Wyatt Oleff
Usa 2017
Tags: Andrés Muschietti, Andy Muschietti, Bill Skarsgard, Finn Wolfhard, IT 2017, IT remake, Jaeden Lieberher, Owen Teague, Stephen King, stephen king adaptation, Stephen King IT, Wyatt Oleff
Posted in Horror by Tony Northrup on September 15th, 2017 at %I:%M %p.