RANK: 7.5/10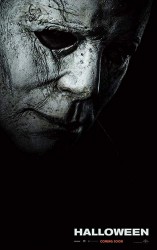 The 1980′s was the high point of what is known as the "slasher film" genre. You could bet your bottom dollar that every October you'd see a sequel to FRIDAY THE 13th, NIGHTMARE ON ELM STREET, and yes, HALLOWEEN, playing at your local movie theater. It was a fun time in film, and moviegoers really got into these over the top gore fests, no matter how bad they were. However, many of these franchises burned themselves out, and became movie marathons for those die hard fans, in their own homes.
Throughout the years, one of these franchises has continually returned to the big screen, scaring old and new viewers alike. This October, although we are once again graced with a new HALLOWEEN 2018 (as it is being referred to), we are also in for a bit of a surprise. For those of you who have followed this franchise over these many years, 40 years, to be exact, well you know you are in for a long awaited treat. Not only a new movie in the series, but one that brings back the original director, as the executive producer, and the original "scream queen", who this term was coined for.
Director, John Carpenter started the "slasher film" genre, with what is now considered the most successful independent film series of all-time, HALLOWEEN. In 1978, Carpenter took a big risk doing a film about an unstoppable killer who targets babysitters, on Halloween night. Of course, one of them just happens to be his sister. As the story goes, Michael Myers has killed before, was locked up for years … until he escapes.
From that moment forward, Carpenter changed the face of horror movies, and has made history. Although there were many films in this franchise, he also inspired a whole new generation of directors, making their own slasher films. John Carpenter's career has been very successful, and also jump started the career of well known actress, Jamie Lee Curtis, daughter of Janet Leigh, and Tony Curtis, mainstream actors themselves, who have since passed.
Now, 40 years later, this franchise is still going strong, and fans have been anxiously awaiting this newest chapter in these well loved films, and the ORIGINAL Michael Myers (Nick Castle)… is back!
HALLOWEEN (2018), takes place 40 years after the events of the first film. Michael has been locked up at the Smith's Grove Sanitarium all these years…waiting. When podcasters, Aaron Corey and Dana Haine, want to interview Michael for their program, a quiet rage begins to build inside him, making the interview unsuccessful. In hopes of having some questions answered, they turn to the only other person they know will most assuredly have something to say, Laurie Strode, who has, after all these years, become a recluse because of that horrific Halloween night, all those years ago. When Michael escapes, as we all know he would, he sets his sights on one thing, Halloween, and then of course, finding Laurie Strode.
Once back in Haddonfield, the story takes off. News spreads of one inmate from the sanitarium, who has still been unaccounted for after a bus crash, Michael Myers. However, Laurie is ready, has been preparing for years , and although she has sustained everything from alcoholism, to failed marriages, and a daughter who is virtually estranged from her, she awaits the inevitable return of Michael Myers, and she is no longer the victim. She is ready to do what it takes to protect herself, and the lives of her daughter Karen (Judy Green), and granddaughter, Allyson (Andi Matichak).
HALLOWEEN is a tale of horror, terror, and the ultimate slasher film, once again making it Michael's night, but this time, he will meet his match, Laurie Strode. The question is: will Michael Myers be stopped? To find out, I recommend…HALLOWEEN (2018)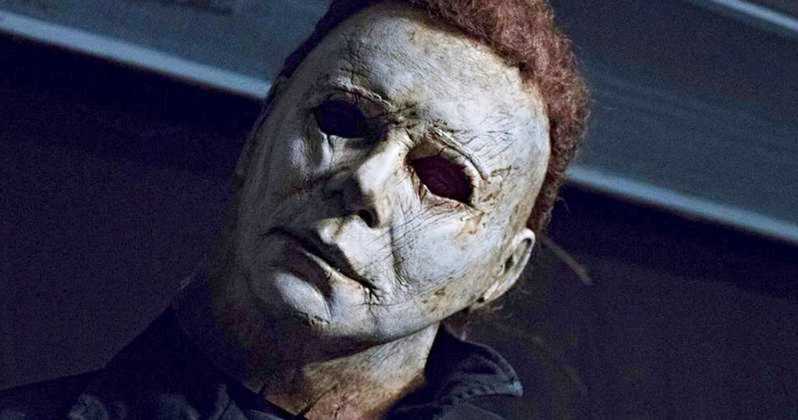 I was extremely excited to see this film. As a die hard HALLOWEEN fan, I grew up on these films, and several others considered slashers. I never thought we'd see another Michael Myers film again though at this late date, especially one that has that trade mark stamp of John Carpenter on it. This film is fun, and what better way to spend your October, but with creepy horror films, and one of the best slasher films making a return to the big screen? Director David Gordon Green, was so right-on with this one, that John Carpenter couldn't just put his seal of approval on it, but was so vested in the project, he executive produced it. The tale was well told, and picked up right where the very first Halloween film left off, only 40 years later. Never mind having to see all the others in between, this was a superb stand alone film. It meshed right into the 1978 film. For the die hard fans of the franchise, there are "nods and cameos", to the other films in this franchise. However, the main highlight of this film, is of course the star: Jamie Lee Curtis. She brought back her iconic role, and didn't miss a beat, even after all these years. She is convincing as being a surviving victim of Michael Myers, and that all these 40 years later, the damage is still there. However, her character has also became stronger, smarter, and very brave . It was truly fun to see all these characters back on the big screen. But the real question is…will there be another HALLOWEEN? This film swept the box office the first weekend, breaking records as being one of the biggest October openers, and has smashed its own record as the highest grossing film in the entire franchise history of HALLOWEEN, and as I say, it was only the first weekend! I suggest that you see this fun film, after all, it is October, and HALLOWEEN! If you're still wondering if Michael Myers will be back…stay after the credits roll, maybe there's a clue. I would suggest that this film is NOT for younger viewers, however, for every one else…Michael is waiting for YOU!
RANK: 7.5/10
Regista/Director: David Gordon Green
Cast: Jamie Lee Curtis, Donald Pleasence, Danielle Harris
Usa 2018
Tags: Danielle Harris, David Gordon Green, Donald Pleasence, HALLOWEEN 11, HALLOWEEN 11 review, HALLOWEEN 2018 review, Jamie Lee Curtis
Posted in Drama and Horror by Tony Northrup on November 4th, 2018 at %I:%M %p.