RANK: 7.5/10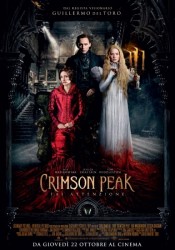 Director Guillermo del Toro (best known for films such as, Hellboy 1 & 2, Pan's Labyrinth, and Pacific Rim), is also known for bringing an amazing vision of gothic, class, and the unusual to the big screen. In his latest film, Crimson Peak, del Toro spins a tale of mystery, suspense, and horror with a Victorian gothic setting that sends chills down your spine.
The story begins in the Victorian era in the state of New York. Aspiring author, Edith Cushing (Mia Wasikowska) who writes ghost stories but prefers to romance genre of writing, has a frightening experience as a child with her mother's ghost who warns her to "Beware of Crimson Peak!" Years later, Edith would meet aristocrat and inventor, Sir Thomas Sharpe (Tom Hiddleston) who wins her heart and has plans of his own with this young beauty. However, it is Edith's father, Industrialist Carter Cushing (Jim Beaver) who has Sir Thomas investigated and finds out he has many hidden secrets. Carter tries to make Sir Thomas leave the country along with his sister, Lucille Sharpe (Jessica Chastain) by blackmailing him and forgetting all about his daughter. Things go very wrong for Carter and Sir Thomas and Edith soon become married and head back to England to begin their new life together.
Their new home of Allerdale Hall located in the England country side, is a huge gothic mansion which is old, falling apart, and full of …..ghosts! It is also known as "Crimson Peak" which is the same place her mother warned her about as a child. While at the mansion, Edith slowly discovery that everything is not as it seems. With warnings from Sir Thomas and Lucille to not go in the basement, the house has many doors which are meant to be locked for a reason, and other suspicious warnings – Edith begins to fear for her life and tries to investigate the secrets of Allerdale Hall. However, as secrets begin to reveal themselves, Edith realizes not all evil is of the paranormal kind….some monsters are of the flesh as well. To find out the mystery and horrors of Allerdale Hall, I recommend … Crimson Peak!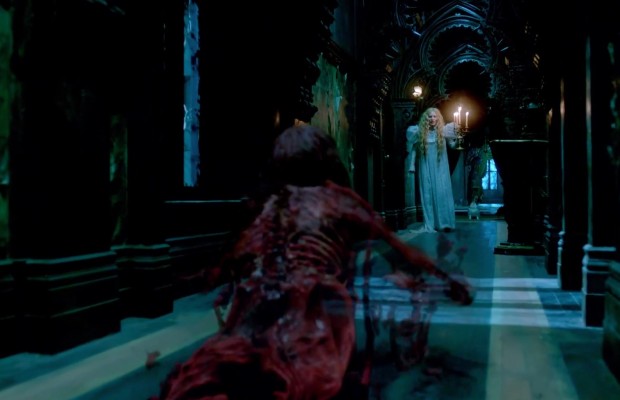 It has been awhile since I've seen a really good "ghost story'. This film is not only a really good tale for this time of year, but visually it is truly stunning! Everything from the Victorian era dresses and costumes, to the locations, and of the mansion known as Allerdale Hall itself. This film is very gothic and eye-candy for those interested in the Victorian era. It has an outstanding cast: Mia Wasikowska, Tom Hiddleston (known as 'Loki' in the Marvel superhero films), Jessica Chastain (who also stars in The Martian which is currently in theaters that I also highly recommened), Jim Beaver, and also stars Charlie Hunnam (known for playing 'Jax' on the hit show, Sons of Anarchy). Charlie plays Dr. Alan McMichael who is Edith's childhood sweetheart. I think this film was well told and sure to get nominated come Oscar time for it's costumes and set designing alone. So, for a scary good time at the movies, go see Crimson Peak!
RANK: 7.5/10
Regista/Director: Guillermo Del Toro
Cast: Mia Wasikowska, Jessica Chastain, Tom Hiddleston
Usa 2015
Tags: CRIMSON PEAK, CRIMSON PEAK recensione, crimson peak review, fantasy horror, Guillermo Del Toro, Jessica Chastain, Mia Wasikowska, Tom Hiddleston
Posted in Horror by Tony Northrup on October 25th, 2015 at %I:%M %p.