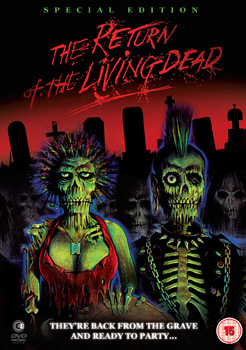 The dead have risen and they need more 'BRAINS'! Dan O'Bannon's cult splatterfest The Return Of The Living Dead is one of the definitive zombie movies and one of the classic horror films of the 80s. Now this horror favourite is being released on 4 June 2012 courtesy of Second Sight as a special edition double DVD and makes its UK Blu-ray debut in a limited edition Steelbook, both with five hours of special features and also the much anticipated inclusion of the original soundtrack as well as the remixed version.
Blundering medical supplies warehouse workers Frank and his young trainee Freddy unwittingly set off a mysterious US military chemical that brings the dead back to life. And they've got a real hunger for human brains. Enlisting the help of a local crematorium, they set off a chain of events that could lead to the end of civilisation. Can they defeat the growing army of ravenous zombies? 'How do you kill something that's already dead' It's not a bad question Bert.
Complete with a raucous rock soundtrack by the inimitable The Cramps, The Return Of The Living Dead is a zombie gorefest at its best.
Special features:
MORE BRAINS! A RETURN TO THE LIVING DEAD
The definitive two-hour documentary featuring interviews with cast, writers, producers and many more, as well as previously unseen behind the scenes footage, storyboards, conceptual art, publicity materials and archival documents
MORE BRAINS! TWO HOURS OF KILLER BONUS FEATURES
- A conversation with Dan O'Bannon: The Final Interview
- They Won't Stay Dead: A Look at Return of The Living Dead Part 2-A Love Beyond The Grave: A Look at Return of The Living Dead 3
- Stacey Q Live: Exclusive 'Tonight' music video
- Even More Brains: Deleted documentary interview
- Return of The Living Dead in three minutes
- Resurrected Settings: The Filming Locations Today
THE ORIGINS OF RETURN OF THE LIVING DEAD – with John A. Russo
THE FX OF THE LIVING DEAD – with production designer William Stout and FX make-up artists William Munns and Tony Gardner
PARTY TIME – with music consultant Steve Pross and 45 Grave singer Dinah Cancer
EXCLUSIVE TO BLU-RAY STEELBOOK – 'ERNIE'S NOTEPAD' – 20-page replica notebook by embalmer Ernie Kaltenbrunner, featuring production notes, carting information and exclusive artwork
Details:
Title: The Return Of The Living Dead
Release Date: 4 June 2012 Cert: 15
Running time: 90 mins Language: English
RRP: DVD £19.99 Blu-ray: £ 22.99
Cat. No.: 2NDVD3228 Blu-ray: 2NDBR4006
Soundtrack information:
Blu-Ray
Original Soundtrack: PCM 2.0
Remixed Soundtrack PCM 2.0
Remixed Soundtrack: DTS 5.1 Digital Surround
DVD
Original Soundtrack: Dolby Digital 2.0
Remixed Soundtrack Dolby Digital 2.0
Remixed Soundtrack: Dolby Digital Surround 5.1
An option to play the original soundtrack
Posted in Cinema and News by Giulio De Gaetano on April 17th, 2012 at %I:%M %p.