RANK: 8.5/10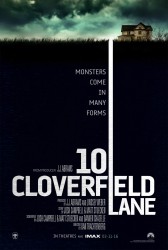 The film begins with a young woman, Michelle (Mary Elizabeth Winstead), who has decided to leave her relationship. She packs her bags and goes. Later that night, on a dark and deserted Louisiana highway, Michelle's car is hit, knocking her unconscious. She later awakens in an unfamiliar place, an underground bunker.
Not only does she not know where she is or how she got there, but she is also chained to a wall. Fearing for her life, Michelle tries to escape, only to be pursued by Howard (John Goodman), who lives in the bunker. It appears there was a biological warfare attack on the United States, either by the Russians, or Martians (at least that's what Howard believes), and the air outside is toxic, leaving them to remain in the bunker for what may amount to years! Along with Howard, Michelle meets Emmett (John Gallagher Jr.), who is also confined to the bunker. Both Michelle and Emmett are told the same story, and according to Howard, they are the last survivors left. After a failed attempt to escape, they begin to think that Howard may be right, and there is nothing else logical to explain some of the odd occurrences that happen.
Soon life becomes routine, as much as possible anyway, and they all settle in, trying to lead as normal a life as possible. The bunker is completely stocked and has all the conveniences and illusions of being a home. However, Howard begins to display behaviors that leave Michelle and Emmet with more than a few questions. It seems that the real menace may be inside with them. To find out what secrets Howard has, and what's really going on, I highly recommend seeing…10 Cloverfield lane.
I thoroughly enjoyed this film for so many reasons. John Goodman is great as Howard, and seemed to be more than convincing in his role of what some may consider a near lunatic, living on the fringe. The suspense keeps you on the edge of your seat, and that panicky feeling of being trapped underground, whether it is a model of a straight out of the 1960′s replicated home or not, is enough to drive anyone nuts. The film has a good flow, but just when you think you know what's coming next…BAM!, it takes a complete turn, leaving you wondering what's actually next. There are some pretty intense, and terrifying scenes, enough to make you want to jump right out of your seat! One question I have been hearing is that people are wondering if this is a sequel to the 2008 release of the film that shares the same name…Cloverfield. All I know is I would recommend seeing this fun film to find out. It's brought to us by director Dan Trachtenberg, and once again produced by J.J. Abrams, who brought us 2008′s Cloverfield, so your guess is probably correct. There is also word of another sequel in the works. So, if you want to have fun, be a little scared by some of the scenes…than I suggest seeing…10 Cloverfield lane..
RANK: 8.5/10
Regista/Director: Dan Trachtenberg
Cast: John Goodman, Mary Elizabeth Winstead, John Gallagher Jr., Douglas M. Griffin
Usa 2016
Tags: 10 cloverfield lane, 10 CLOVERFIELD LANE recensione, Cloverfield 2, Cloverfield sequel, Dan Trachtenberg, Douglas M. Griffin, fanta horror, fantascienza, John Gallagher Jr., John Goodman, Mary Elizabeth Winstead
Posted in Sci-fi and Horror by Tony Northrup on March 20th, 2016 at %I:%M %p.