RANK: 8.5/10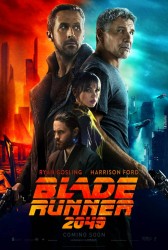 In the summer of 1982, I was 11 years old.  That summer you could find me at the movies more often than not.  Some of the greatest films were released that year, such as E.T., Poltergeist, The Thing, and many others. However, one of the biggest science fiction blockbusters from that year released was Blade Runner, so you could bet I'd be there.
This film was stellar in every way, from the story, cast, musical score, and the F/X were considered ahead of their time.  It still has a huge following, and remains a fan favorite around the world, to this day. That summer as I say, I saw Blade Runner eight times in the theater, and owned a pretty impressive collection of Blade Runner memorabilia. I never dreamed all these years later, 35 to be exact, there would be a follow up to this amazing story.  Blade Runner 2049, is the sequel every fan of the original film has been waiting for, and here is this fans review.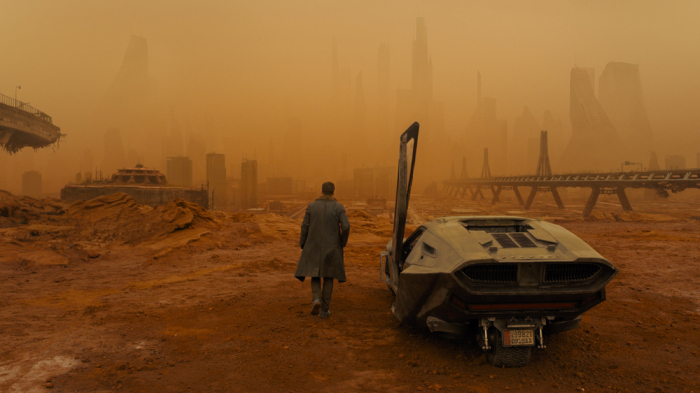 In the original release of Blade Runner in 1982, the story takes place in the year 2049, in Los Angeles.  The future doesn't look too bright for the City of Angels, and the bio-engineered replicants (which were hunted down in the first film), have now been placed in society to maintain the population.  While tracking a replicant, K finds himself on a deserted farm where he unearths a box which contains female human remains.  It appears that there was a pregnancy and a Cesarean section done.  Does this mean there is a possibility that human and replicant can reproduce? When replicant manufacturer, Niader Wallace (Jared Leto), hears of this discovery, he sends out his own assassins to hunt down K, and find the child who was produced by the replicant and human.
During this time, K has his own secret past to learn about, and it all leads to one man who may hold some of the answers, retired Blade Runner, Rick Deckard (Harrison Ford).  It is up to them both to save the child, hide the secrets, and end Wallace's plans to make a new breed of child bearing replicants.  To find out the answers, and see, without question, one of the most stunning visual films you'll ever see, I  recommend … Blade Runner 2049.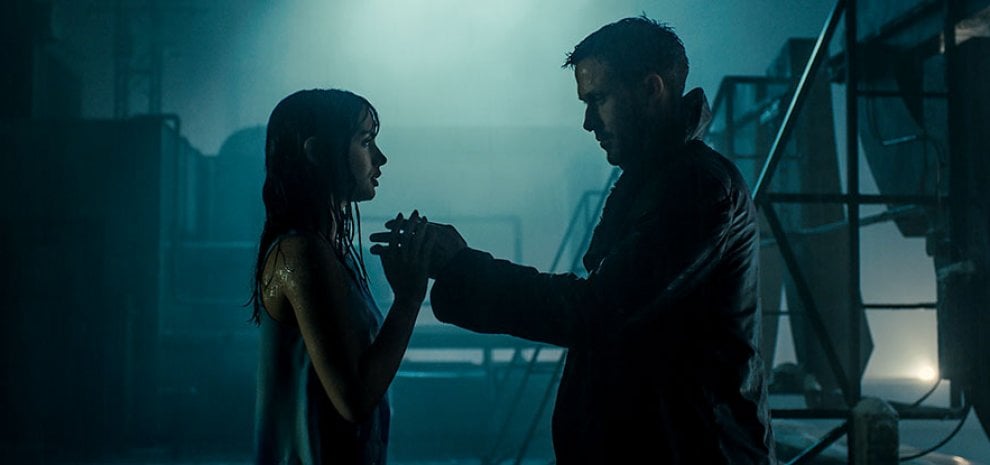 I have waited 35 years for the sequel to this classic, and it didn't disappoint!  It was a real treat to see  Harrison Ford back on the big screen, reprising his role as 'Deckard', after 35 years.  Ryan Gosling does a great job as the lead 'Blade Runner', and the entire cast follows suit.  It was interesting to see where they took the story after all this time, and it made sense.  The music in the original film was by Vangelis, which was some of the most beautiful music in any film, however this score is by Hans Zimmer, and was outstanding.  The score is powerful and eerie. This film has incorporated some of the original music though, and there are some cameos in the film, as well as sound effects, that fans of the first film will recognize.  However, there is one very surprising cameo that you will have to look for.
I personally feel the main attraction of Blade Runner 2049 are the visuals and F/X.  True, there is a lot of CGI, but there are several film companies backing this up, and it shows.  You almost can't take it all in.  It is a film that must be seen and experienced on the big screen!  This film is pure Sci-fi, at it's best, so for those hardcore Sci-fi lovers, you won't be disappointed.  In my opinion this is one of the finest, and entertaining films of 2017.  I hope all of you will make the effort of getting to your local theater to experience this fine film.  Until next time…see you in line!
RANK: 8.5/10
Regista/Director: Denis Villeneuve
Cast: Ryan Gosling, Harrison Ford, Ana de Armas, Sylvia Hoeks, Robin Wright, Dave Bautista
Usa 2017
Tags: Ana de Armas, best sci-fi movie 2017, BLADE RUNNER 2049, BLADE RUNNER 2049 review, BLADE RUNNER sequel, Dave Bautista, Denis Villeneuve, Harrison Ford, Robin Wright, Ryan Gosling, Sylvia Hoeks
Posted in Sci-fi by Tony Northrup on October 15th, 2017 at %I:%M %p.