It's hard to believe a year has come and gone since the last Crypticon Horror Convention 2013. A little over a year ago I headed out with a buddy to Minnesota for three days of fun, excitement, parties, celebrities, and all things horror. It ended up being one of the best weekends I've ever had. I was honored and excited to write my article about the event, letting everyone know just how much fun and how thrilling it was to attend these type of conventions.
By doing so, I won a North Dakota Statewide Writer's Award, one of four in the entire state of North Dakota. Once again, I am excited to bring you my review of an event that I consider to be one of the best horror conventions in the upper midwest … CRYPTICON MINNESOTA 2014!
This year my wife Gena accompanied me as we set out on our drive to the Twin Cities. The Crypticon was held a month later this year, in October, so it was a great fall day for a long drive. Being that it was the third week of October, it was even that more exciting, as that Halloween feeling was in the air, and this year the Con was held in a different venue, The Ramada MOA, in Bloomington MN.
I was able to ask many of the guests at the event, and those involved with putting on the Crypticon, what they thought of the new location. They all agreed this new location was even more awesome than the last. It was a much larger hotel, with many convention rooms. There were more things to see and do, a HUGE vendor room, and even though I got lost the first 30 minutes after I arrived, I found it to be a much better home for future Crypticon festivals. After getting unpacked and settled, it was time to get this party started!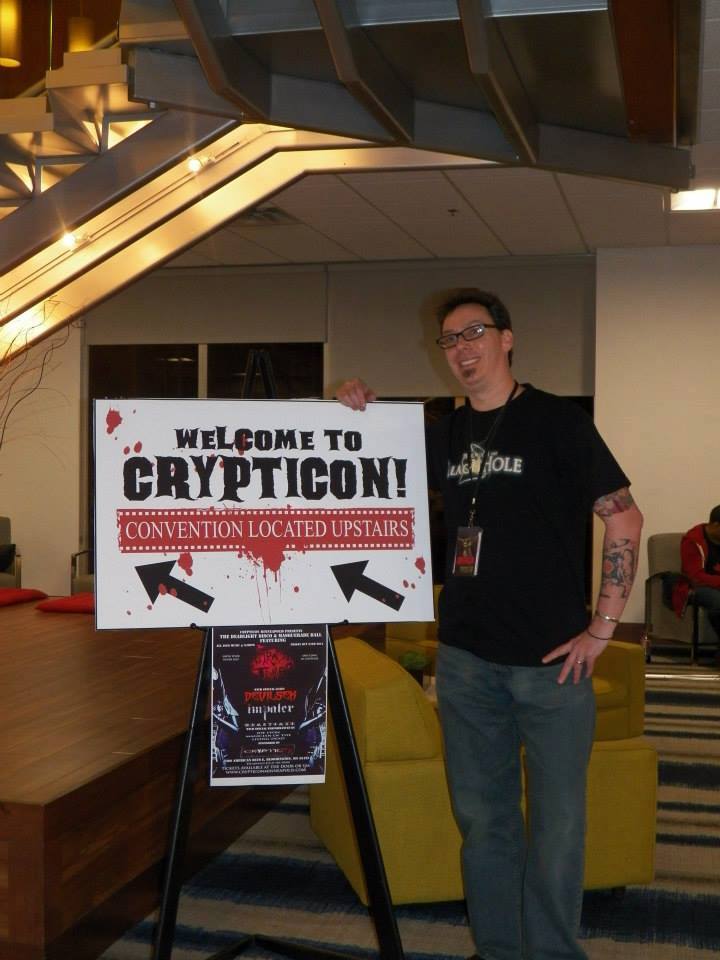 FRIDAY. This three day event began Friday the 24th, with the doors opening at 5:00 p.m. You could literally feel the excitement in the air! Celebrity guests were nearby getting their tables ready for autographs and pictures with fans. People were lined up at the main event doors like shoppers on Black Friday, waiting to get in. Everyone was excited to be there. Some were trying to familiarize themselves with the new surroundings, while others were meeting up with old friends they met at past events.
As I looked around, walked through the lobby, hallways, and stood outside the doors of the main event room, I could see everyone was really into the spirit of Crypticon. There were Cosplay characters (costumed dressed fans), people dressed as horror movie icons, comic book characters, creatures of the night, while others wore there favorite logo t-shirts proudly. All these folks, of all ages, coming together once a year, to unite and celebrate in something they really really loved, the appreciation of horror,from films to books, art, and all else it encompassed.
Everyone was there to have fun, and let me tell you, for three days that is exactly what we all did. This vibe started from the minute I got there, and lasted all weekend long. Every time people passed each other in the lobby or hallways, wherever, everyone was friendly and respectable. If that doesn't make you want to go next year, then read on, and let me tell you more dear reader.
The first evening of Crypticon is usually spent browsing for the first couple of hours. I spent a great deal of time looking at all the vendor tables that evening as I knew the next two days would be completely hectic with celebrity Q&A sessions, and one on one interviews. So there I was carefully inspecting each vendor table. Of course there were several tables with an array of merchandise to sell. Comics, action figures, dolls, books, posters, autographs, toys, DVD's, Art, and Horror themed crafts by original artisans. There were also writer's there as well. I picked up a couple books by a new author, Patrick W. Marsh, his books have already attracted quite a bit of attention in the local area, and online. Of course I had them autographed.
There was so much to see, and as the evening wore on the vendor room began to get crowded. Time for me to see who was set up at the celebrity tables, and ready to chat with or interview.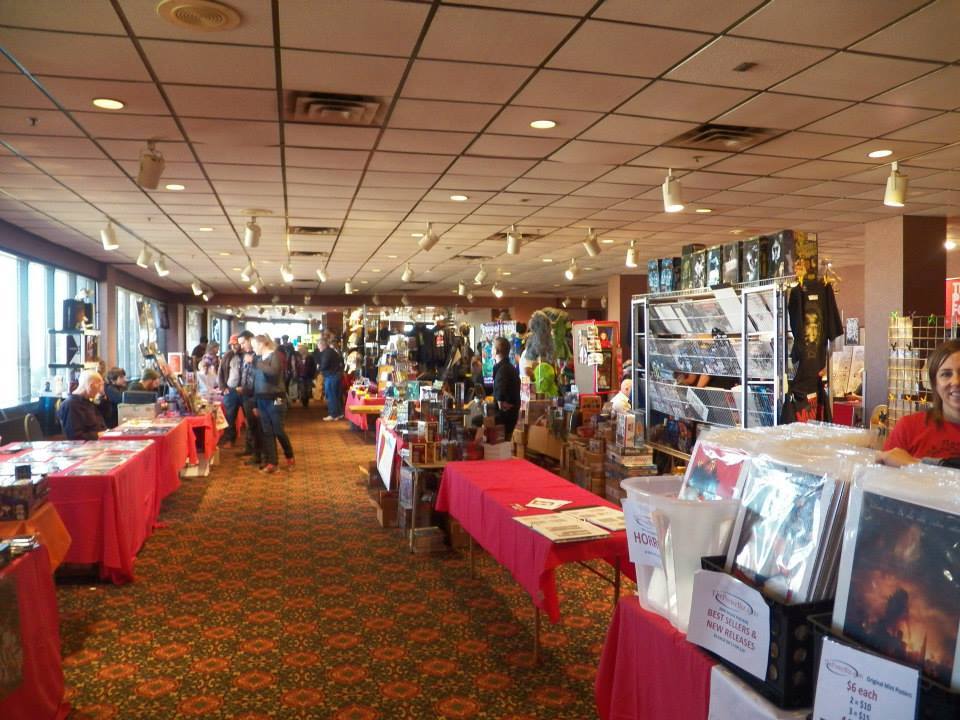 My first celebrity guest chat of the evening was with actor/stuntman Ted White. Ted has been in the film industry a very long time. His career has included doing stunt-double work for some of the biggest names in the industry. Some names I know you will recognize are legends on the big screen such as John Wayne, Clark Gable, & Lee Marvin. However, horror fans know him best as, "Jason", in Friday the 13th Part 4: The Final Chapter.
Ted was very polite and a true gentleman when I interviewed him. He was very eager to answer all my questions, and here is just a sample of a couple questions, but I will be doing a separate more expansive article of some of the celebrities I interviewed later on in 2015.
TN – How did you prepare yourself for the role of Jason in Friday the 13th Part 4, I mean in the sense of coming off as diabolical and frightening to the cast, so that they would react as convincingly as possible?
TW – I purposely stayed away to be more scary, it was my first film like this…just didn't want anyone to get hurt. So this began what was to follow of several more questions with Actor, Ted White.
Sitting right next to Ted was one of his fellow co-stars of Friday the 13th Part 4, Judie Aronson. Judie also starred in another film you may be familiar with, Weird Science. Judie shared these thoughts:
TN – The conditions at the lake were very harsh on the set of Friday the 13th Part 4, were there any specific scenes, or conditions in the film that you found nearly intolerable?
JA – COLD WATER! All the scenes in water filmed in late October through December, the water was TOO cold!
After several questions and a great visit with both Ted and Judie, I moved on through the room and found my next interview, actor Tom Atkins. Tom has been in many films spanning over decades including The Fog, Halloween 3, Escape From New York, Creepshow, Lethal Weapon, and many many others. Being a fan of his works (especially Creepshow), I was very excited. Tom was kind enough to give me an in depth interview, as well as some of the other celebrity guests, which will have their own one on one interviews published at a later date as I mentioned. But here is a little look at what Tom had to say.
TN – How did you feel about Halloween 3, and the absence of the Michael Myers character? Did you feel you had to work that much harder to win the cult following of the Halloween series fans over?
TA – Didn't mean anything to me. I read the script, I liked it, and I made the film. It upset the fans, but you just do your best.
As I visited with Tom, my wife and camera assistant for the weekend, Gena, was having a very fun and interesting conversation with actor Eric Roberts. Eric has been in almost 400 films to date, and still going strong. He is considered one of Hollywood's greatest, and most lucrative actors. I found Eric to be very polite, courteous, and uber intelligent. With his own brand of humor, that Southern charm, I definitely found Eric Roberts very easy and fun to visit with. Here is a sample of our interview:
TN – I understand you are drawn more towards "villain" type of roles. What is it specifically that draws you to them?
ER – They're more fun to play. Better clothes, cooler cars, and better looking women!
With a couple of celebrities interviewed, and the crowd beginning to gather where I was, it was time to move on to another table. The next celebrity guest was one I had been looking forward to meeting and interviewing for a long time, and she was every bit as personable as I thought she would be.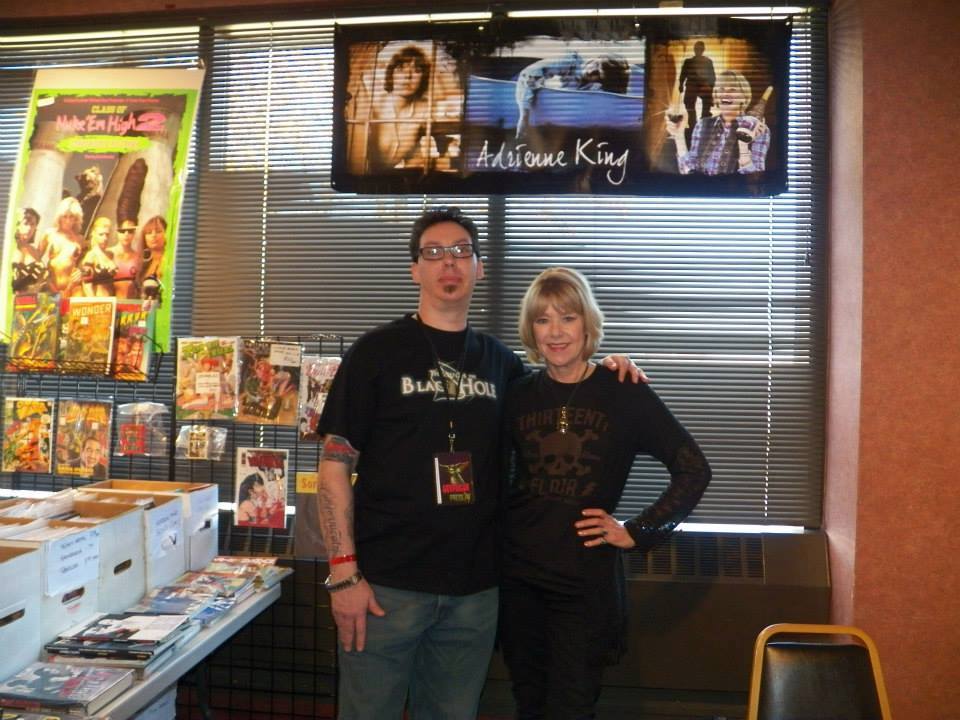 Actress Adrienne King, best known for playing "Alice" in the original first Friday the 13th film (1980), and Part 2 (1981), was the sweetest, most friendly celebrity I've ever met. Both Gena and I had a wonderful time meeting her and spending some very special extra time throughout the weekend with her. Not only is she a talented actress, she is also an equally talented artist. Adrienne also has her hand in the wine making business and is proud to have her own featured label. I will be featuring Adrienne very soon in a full length exclusive one on one interview, but for now here is just a hint of what's to come.
TN – In specifically frightening scenes in Friday the 13th, you need to be truly convining that your character is frightened out of her wits. What did you do to prepare for that ?
AK – It's not hard if you allow it. You're convinced it's worth it. You have to go to deep dark places most people stay away from. Not to pretend, but go to that deep dark place. I am by myself for an hour, and I'm ready, that's horror films.
Shortly after, Adrienne had her Q & A session in the Panel Room, a place fans can come to ask questions and listen to great stories the actor would like to share. This gives the fans a chance to get up close and personal with their favorites. This lasts about an hour and really gives a great insight into the person speaking. It truly is one of the highlights of the weekend.
As things began to wind down for the evening, most fans and guests were off to dinner, while some were making last minute purchases before the vendors room closed. However, that was not the close to this party! Indeed, there were many events planned for the night. There was "The Dead Light Disco and Masquerade Ball", where you could listen to live music, have a drink at the bar and meet up with friends,. and parade around in any costume you like.
There were numerous rooms running non stop film festivals where you could enjoy classic horror films from nearly every era, or the first ever to appear at the Crypticon Horror Con this year was the "Stephen King Dollar Baby Short Film Fest", which I hosted for two nights and one afternoon, playing the best film adaptations of the famous horror writer's stories on the big screen for all to enjoy!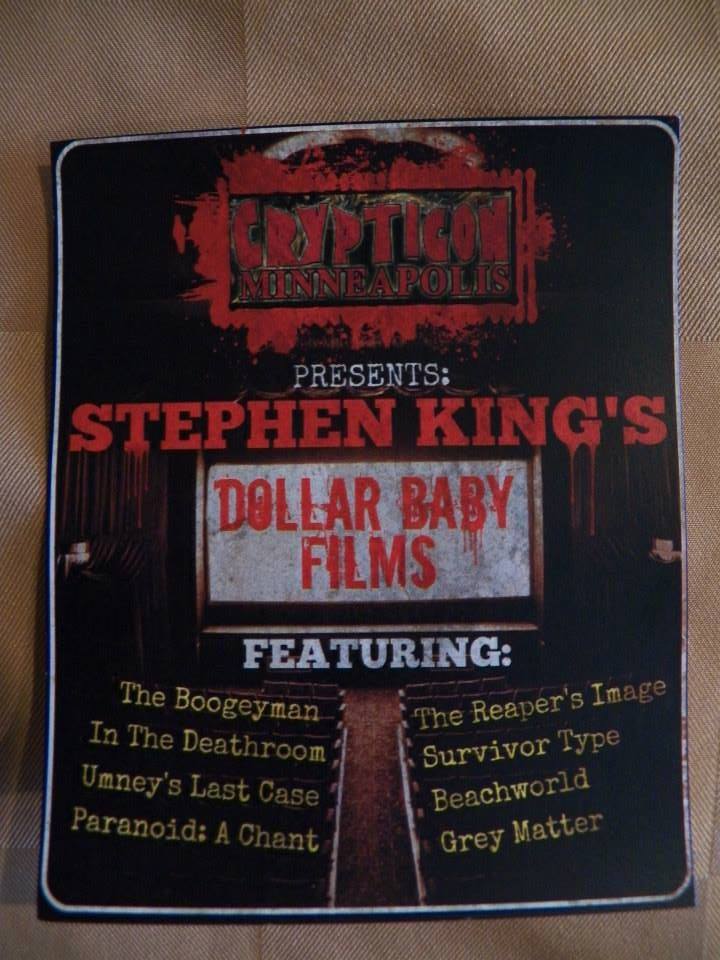 SATURDAY is really the main event day, and the busiest for everyone! The fun begins early with attendees hitting the vendors room, where ALL the action is! As I mentioned earlier, it's also the same room where all the celebrity guests have their tables set up for autographs and photo op's. Of course the celebrity guests are the highlight of the entire weekend, and they TRULY make you feel welcomed by giving you time to ask questions, take pictures, even a hug if you're lucky. They were all very friendly, generous, and knew why you're there, so they made it the best experience possible for everyone. I've met many celebrities in my own life, in many different situations, but I can tell you this, the celebrity guests at Crypticon were wonderful in every sense.
During the day there are many things to see and do at Crypticon, including The Scares That Care Silent Auction, celebrity guests, Q&A Panels, Hot Rod and Car Show in the parking lot, F/X Make-Up and Masks demo's, and yes, even more Q&A Panels. There is never a dull moment!
I can tell you that the line for actor Corey Feldman was out of this world long! His appearance started at 11:00 am, and didn't end until after 8:00 pm that evening, the line still as long then, as it was that morning. I was very lucky to meet Corey earlier in the day and talk briefly about his film, Stand By Me, and had a picture taken with him, and of course got his autograph. And yes, it was signed on one of the promo photos of Stand By Me.
As I interviewed Corey, we spoke of the film Stand By Me. We both agreed that the film came out at a very important age, and pivotal point in both our lives (15 yrs. old, a time of change). This was a very surreal moment indeed. Both of us worlds apart, but this tiny commonality affected both of us at the same time in life, as Corey and I are the same age.
Corey's Q&A session was amazing! The room was PACKED! Some of the Crypticon crew admitted later they'd never seen a Q&A room packed so much for any other guest before. It was fun listening to his stories, hearing him talk about some of our favorite films he was in from the 80′s. He spoke in length on some of his own favorite films he was in, The Lost Boys, The Goonies, and Stand By Me, and even some of his personal memories of growing up in Hollywood, and show business. Quite the storyteller, indeed. The entire room was captivated and the energy was high. Corey Fledman knows how to draw in an audience for sure.
As the day quickly moved on, so did I, with more interviews.
Next up: Carel Struydken. Carel is best known for his recurring roles in Star Trek: Next Generation, the film Witches of Eastwick, and his most celebrated role to date playing that infamous butler "Lurch" from the Addams Family films. Standing at 7 feet tall, Carel was one of the most polite, gentlest men I have ever met. Carel told me it was ,"..an honor.." to play such an iconic role on film as the character "Lurch".
Right next to Carel was fellow Addams Family actor, Felix Silla. Felix has been in the film industry since the 1960′s, and has played everything from "Twiki" from Buck Rogers, to an "Ewok" in Return of the Jedi, but his most famous role is of "Cousin IT" from the long running 1960′s television series, The Addams Family. Felix visited with me a very long time, and even at the after parties, was a true gem. Standing only 3′ 11″, he has a heart of gold, and truly loves his work. Felix shared his thoughts with me on working on the Addams Family show: "…It is old days long gone. We all got along. John Austin was very funny, Jackie Coogen fell asleep ALL the time on set, and it was just a lot of fun."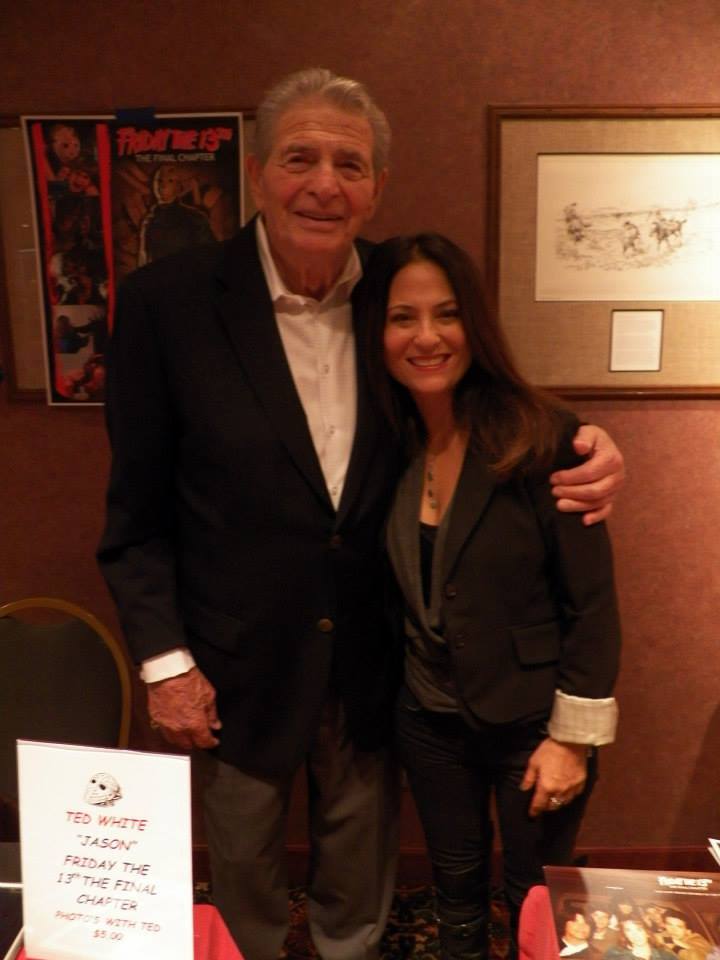 As it got closer to evening, I had just enough time for one more interview before the parties began. This time it was actor, Zach Galligan. Zach has been acting for many years, but everyone knows him best as "Billy", in the still loved to this day film, Gremlins. Gizmo's human companion and friend Zach, had this to say about the messy "orange juice scene" in Gremlins: "…It took 2 takes..had to shower in between. It took 45 minutes to clean up the set. You'll notice I blew into the glass, like a gunslinger blows into the barrel of his gun." As we talked, Zach and I shared a love for all things … "80′s"… and we both agreed how much fun it was back then.
As the busy day came to an end, the fun continued into the night, with even more parties to attend! There was so much to do. Many people went in costume to the Ball Room for the "Halloween Funshop Creepy Costume Contest" , where those who entered could win fun prizes for best costume in many different categories. I have to say, some of the costumes were so detailed and amazing it was a real challenge for the judges to decide which was the best. Once the contest was over, the Dance Party began! "Dance of the Dead" brought all manner of creatures of the night together for music of all types, brought to them by DJ SLT (Thomas Wollenberg based in St. Paul, MN), and his guest DJ ENDIF. They rocked the house!
There were party rooms throughout the hotel. Attendees had the opportunity to enter into the "Best Party Room Contest" which they decorated/themed their room to win great prizes. The drinks are free (but tipping is a nice gesture), and it was fun to see how hard they worked to make each party room unique and fun. The second night of the "Stephen King Dollar Baby Film Fest" played along with other movie rooms. You could go all over and find something to do, or sit awhile and take a break while watching the party goers all decked out in costume. Even the staff of the Ramada MOA joined in the fun by dressing in costume. The entire hotel was taken over by Crypticon, and people of all ages were enjoying every minute of it …drama free and without incident of any kind. Everyone was there for the scare and fun of it all.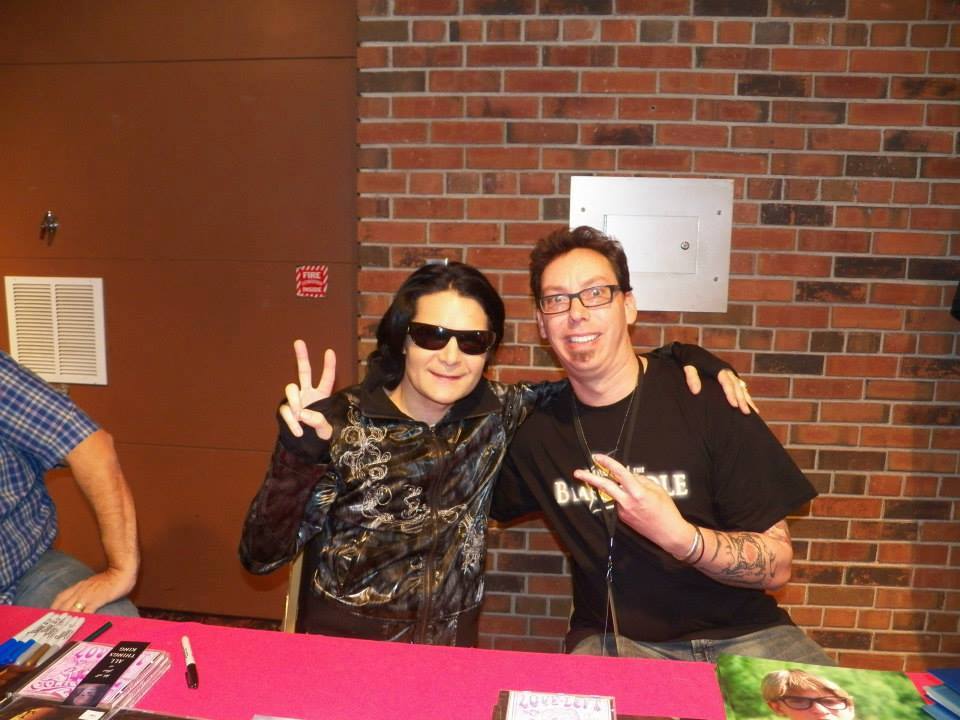 SUNDAY the third and final day of the Con was upon us. Sunday is the shortest day of the con. Doors opened at noon for the attendees to hit the vendors room one last time to make purchases, meet celebrity guests, and take photos.
Eric Roberts Q&A Panel was one of the most enjoyable. He told stories that were not only funny, but emotional as well. I could've listened for hours. His relaxed demeanor was inviting, and you felt like you were sitting with a good friend that you'd known for years. Gena had especially wanted to meet him after following his career for all the years he has been in the business, since the late 1970′s. He is quite the charmer, and with the cool southern drawl, well, all the ladies were swooning.
Meanwhile in the vendors room there was the, Stan Winston School of Character Arts, 2nd Annual Makeup Contest. There were also still many films playing , as well as the final showings of the "Stephen King Dollar Baby Film Fest". A completely new set of adaptations from book to film. Everyone enjoyed this final set as well.
I had two more interviews to do before it was time to go home. I spoke with Frank Conniff from the " Mystery Science Theater 3000″ television show. He told me he enjoyed coming to Crypticon and that prior to this, MS3000 were "..unable to come to places like Crypticon 20 yrs. ago.." but they were really excited now to have a venue to finally reach out to their fans. Let me tell you, I never realized how many MS3000 fans there really were until I saw them at the MS3000 table getting autographs.
The last interview of the weekend was with the " Lost Boys Frog Brother" Jamison Newlander. Jamison played "Alan Frog" in The Lost Boys, along with Corey Feldman. Jamison was very generous with his time, and we visited extensively. We swapped stories about the 1980′s, how fun it was, and living in California, as we found out we lived in the same area of the San Fernando Valley. We talked about many things other than the film industry as well. Jamison is a truly awesome guy, and a total family man. Here is a sample of our interview:
TN – What is your most memorable moments with the late actor Corey Haim on set?
JN – Hanging out..we were kids, 14/15 years old. Hanging out a lot…we lived in Beverly Hills, and we rode our bikes to the beach. Kids..we were just kids. Haim was an "industry kid" but an incredible talent. Jamison best described to me his whole Lost Boys experience that summer: "…Lost Boys captured summer…captured youth…good times."
Well, that wrapped up the last of my interviews for the Crypticon 2014 for this year, and I felt good about them, and am excited to bring some of these celebrity interviews to you in their entirety.
HOWEVER…This amazing event wouldn't be possible without the backbone of the Con: The Staff. I am told I have become part of the Crypticon Family, and have been welcomed with open arms. I felt as part of my appreciation I'd share some of their thoughts on this year's Con.
Nick Kaufman: Head of Crypticon MN – "Each year the show keeps getting bigger & better. Moving to the Ramada MOA gives us a better location & more space for all of our events and activities. Moving the date to late October makes us a great Halloween event."
Tifaine L . Lafrance: Sponsorship VP – (Tifaine decided to use a famous quote to best describe her thoughts): "Never too late to become what you might have been." – T.S. Eliot
Atomic Cotton (Gory Laurie Brains): T-shirt vendor – "Crypticon was amazing this year! Crypticon will always hold a special place in our hearts as it was the first convention we're ever a part of. Every year it gets better, this year especially with the amazing new venue."
Thomas Wollenberg: DJ SLT of St. Paul, MN – "It was our busiest year. Crypticon is a small family of horror nerds, so it was nice to see a lot of new faces in the crowds this year."
Alan Wollenberg: Crowd control/guest driver – "All I can say is, it is a lot of fun getting to see everyone and hanging out and oh yeah, got to love the stress levels cause I'm always moving from one place to the next. Love stress." *laughs
Jeffrey Furcher: VIP DinnerCo-creater/Head and Spokeszombie – "I'm "Fat Freddy the Zombie" & spokesman/zombie for Crypticon and Co-creater of VIP dinner along with my 15 extras/staff. I loved the convention this year, it went very smoothly & staff at the new hotel was on top of things. I can't wait to refine my party for next year and bring back the fan favorite Zombie Snot Dispenser & Casket Bar and Hosting Zombie Party."
Curt Destler: Volunteer/Security – "I direct people where to go, check to make sure they have proper wristbands & passes. It was a blast as it always is. Being at Con MN is always the best weekend of the year and I can't wait for the decade anniversary next year."
Don Hinrich: Celebrity Liaison/Promotion Zombie – "A great weekend with great people all coming together to have a good time. I am proud to count myself among the other weirdos."
With all the hustle and bustle coming to an end, by 5:00 pm that afternoon it was time to say goodbye to Crypticon for another year. But think of it this way, we had a great 3 day weekend seeing old friends, meeting new ones, met some fantastic actors, and got to listen to their wonderful stories, each and everyone of them enjoying us as much as we did them. Enjoyed the vendors who brought some pretty awesome wares to the event, enjoyed so many fun events to attend within the Con. We were in a place that brought everyone together in our area that enjoyed the same thing…HORROR…and all it entails…we had a great time. Until next year, hope to see you there at: CRYPTICON 2015 IN MINNEAPOLIS MN. IT'T THE CELEBRATION OF 10 YEARS!!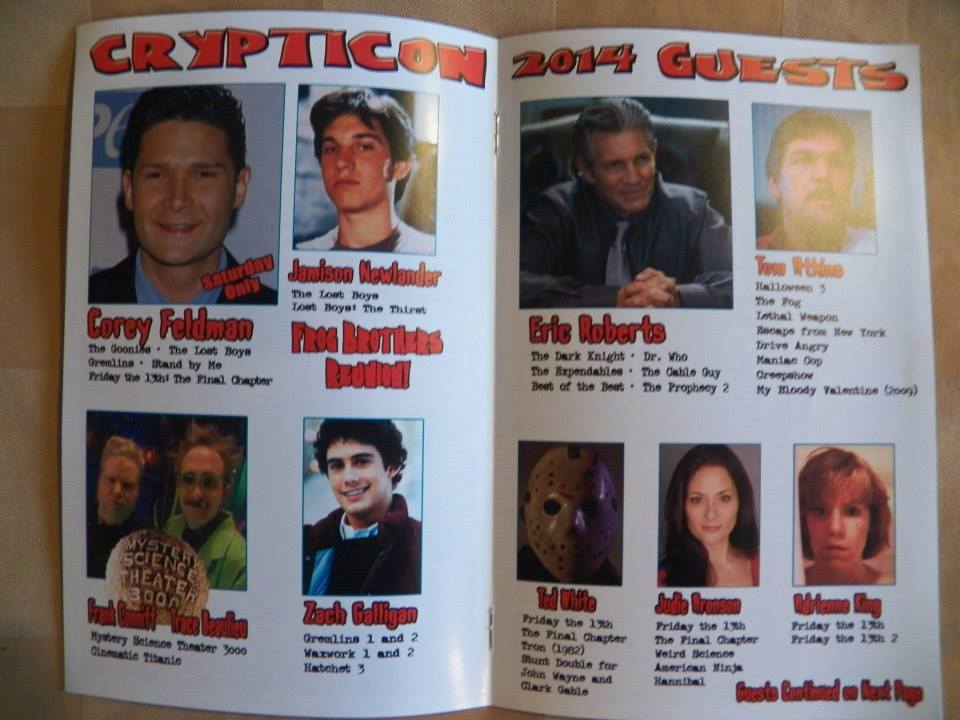 For three days, attendees could be things like comic book heroes, movie characters, or any other character they felt they could act like and feel relaxed in a great atmosphere. Everyone from staff, to guests, to attendees, hotel staff, were all polite, generous, helpful, and made you truly feel like you were among friends. The three day event went very smoothly, professionally, and without complications. There was no drama, accidents, or roughhousing. People enjoyed themselves to the fullest in every sense. The atmosphere was positive vibes, happiness, and peace. You could have conversations with celebrities while dressed as your favorite fictional character and it was OK! There were no over the top expensive photo ops there like other Cons, all events are included in your ticket, free parking for all three days, everything you see is all for YOUR enjoyment for one low price. You just can't beat that anywhere! This is what Crypticon MN is all about. If YOU want to know and feel that same experience,
I highly recommend you keep an eye out on the Crypticon webpage for the latest news, guests list, and events coming soon! Next year will be Crypticon's 10th Anniversary and it promises to be the BIGGEST EVER!!! See you there! I would like to take this final moment to thank MANY of those who helped with this article, and for letting me attend the Crypticon event as Press.
I would like to thank Crypticon Creator Nick Kaufman, for this amazing opportunity. The Crypticon Staff: Tifaine L Lafrance, Thomas Wollenberg, Alan Wollenberg, Jeffrey Furcher, Curt Destler, Don Hinrichs, and the whole Crypticon MN staff. To the vendors: Atomic Cotton/Zack & Erica Kauffman & supporter Gory Laurie Brains, Black Lagoon Collectibles/Mark Losasso, and all the other vendors as well. Summit Brewery and all the sponsors. Writer Patrick W. Marsh, Billy Hanson and the "Stephen King Dollar Baby" filmmakers, Giulio De Gaetano/Through the Black Hole webpage, the Ramanda MOA and staff. And finally, to all of those attendees, and especially the celebrity guests for their time and interviews, And last but not least, to my wife Gena, for her assistance with photography and everything else she helped with during the event, and especially to Truman Ness, owner of Ness Press, thank you for giving me the opportunity to write a column in your truly fine publication, and the Press Passes as well. To my readers, THANK YOU ALL VERY MUCH, and see you in the NEW YEAR!
Posted in Festival by Tony Northrup on December 25th, 2014 at %I:%M %p.