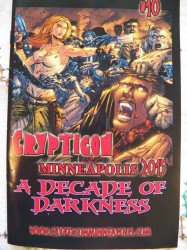 Hello there…and hope your new year is starting off nicely. I have been so busy that I am just now able to share with you all the fun and excitement of what I consider to be one of THE great CONS in our area…CRYPTICON HORROR CONVENTION MN…2015. For the past three years I have been invited to promote, cover, and review, one of Minnesota's biggest local events: CRYPTICON HORROR CONVENTION!
My first two years covering this event are beyond words! They were full of fun, excitement, celebrities, and so much to see and do, it seemed near impossible to fit it all into just three days. This years convention was no exception. Not only did I cover the con once again, from start to finish, interviewing many of the celebrities, and taking photos, I also hosted the… Stephen King Dollar Baby… film festival, for the second year running.
But the highlight of this year personally, was hosting the full length feature film…NO SOLICITORS…starring well renowned actor Eric Roberts, and co-starring long time actress, Beverly Randolph. However, the real excitement, was having the director of the film, Mr. John Callas, attend the viewing, and his Q/A session, after the film!
This year also marked the 10th Anniversary of Crypticon Minnesota, and this year's event was appropriately named…A Decade of Darkness! Ten years, and thousands of fans later, this event is sure to be a success for another decade to come. For the second year running, this event was hosted by the Ramada MOA, in Bloomington MN, and once again the doors to the event opened at 5:00 pm sharp! Guests were lining the hallways to get into the vendor room, the main attraction of the event, the heart of Crypticon, as that is where the celebrity guest tables are as well.
Being in the vendor room, is a fan's dream! It's full of traders from all over, looking to sell their collectible toys, comic books, movie posters, props, DVD's, and hard to find memorabilia. Independent artists have a field day, selling their art, books, and jewelry, among other things. The main feature in the vendor room however, are the celebrity guests themselves. Simply walk up, and for a nominal fee, you can have your very own personalized signed glossy photo, as well as have your own photo taken with them.
This year's celebrity guest list were some of the best in the business, from some of our favorite films of all time. This lineup included: Lance Henriksen (Aliens), Doug Jones (Hellboy films), Michael Biehn (Aliens & Terminator), Leslie Easterbrook (Police Academy films), David Naughton (American Werewolf in London), William Forsyth (Dick Tracy & Raising Arizona), Chris Mulkey (Twin Peaks), Thomas Ian Nicholas (American Pie films), Sarah French (Insectula), just to name a few. However, the one guest the line was always long for was, Kane Hodder (Jason, in the Friday the 13th films).
As always the most interesting part of the con are the Q/A panels. I enjoyed quite a few of these, taking notes, asking questions, and listening to some great stories these folks have to share. Kane Hodder, was one of these that had so many great stories to share about his career, and playing the iconic horror villain…Jason…in many of the Friday the 13th films.
Although I will publish some of the interviews of the celebrities I did at this year's con, I will be sharing a couple of quotes here in this article. I asked Kane Hodder: "What was the most challenging stunt for you out of all the 'Friday the 13th' films you were in?" Kane replied, "Being on fire for 42 seconds straight, in Friday the 13th Part 7″,(it was his favorite stunt out of his whole career). As the night moved on, you had the choices of either dancing the night away with live music in the main stage room, or visiting the many rooms playing films most of the night. You can just walk right in, sit down, and enjoy!
As for me, I was running back and forth, hosting the first night of the Stephen King Dollar Baby film fest, upstairs, then running downstairs, covering the VIP Celebrity Party, where actor Michael Biehn, sat at our table telling us some great stories about his career. If you didn't make it to either of those, there were plenty of party rooms to visit throughout the hotel, decorated in various horror themes, all part of a weekend long contest. The best room got some very cool prizes, and the guests had a great time visiting, and partying. in all these different rooms. So there was no lack of things to do on Friday, or Saturday nights.
Saturday is always the main event day, the festivities begin bright and early in the morning. The vendor room is open early, and everything is in full swing. The room is packed, and the energy is running high! Some of the events of the day included: Scares That Care Silent Auction, Q/A panels of celebrities, such as actor Lance Henriksen (Aliens), and F/X artist Alec Gillis, F/X Demo with Troy Holbrook, Q/A panel with actor Thomas Ian Nicholas (American Pie films), Darkness Radio with Dave Schrader: Real Encounters with the Paranormal, Q/A panel with actor David Naughton (American Werewolf in London).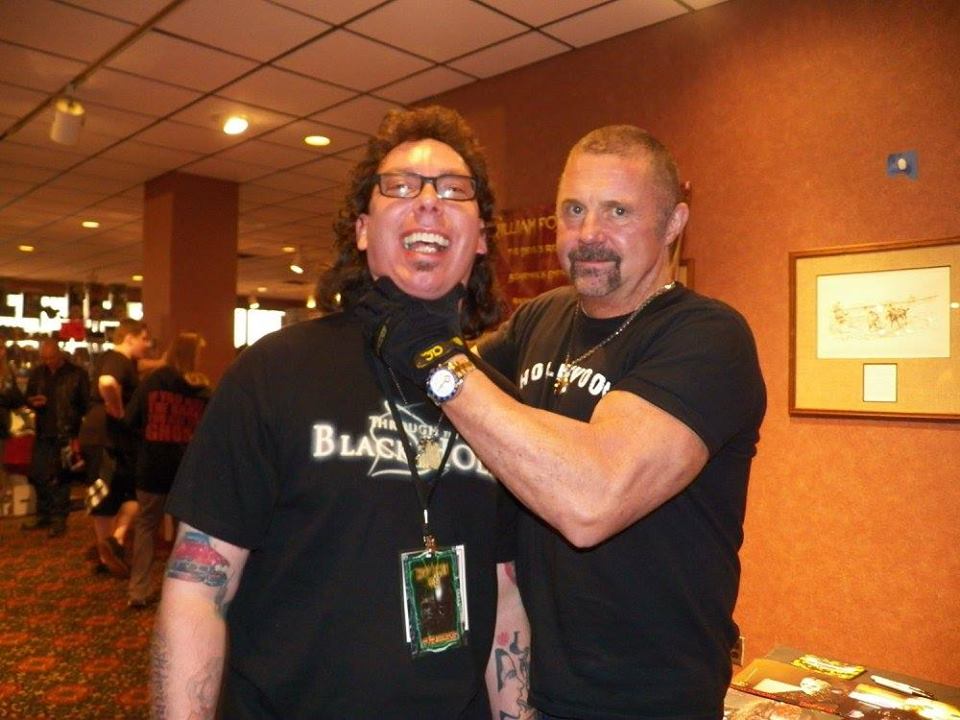 Earlier I had the opportunity to interview David Naughton, one on one. One of my questions asked was about the amazing transformation from himself, to that of a full on werewolf. I asked him: "How long was the makeup process for American Werewolf in London?" He replied, "They had to take molds of me. It took 10 hours total from start to finish. Most uncomfortable were the contact lenses in the dream sequence. They were made from glass, which they don't use these days." I can't imagine myself going through such lengths to make something so believable, but I guess that's why actors get paid the big bucks.
The evening continued with the Halloween Costume Contest, beginning with the kids and pets judging, and of course finishing up with the adults. The guests really went ALL out, and in detail with their cosplay this year. It was so much fun seeing these characters "come to life", as the guests could be whoever they wanted to be, for three days at least.
Saturday was jumping, no matter where you were. You had the choice of dancing and rocking the night away, in the main stage area at, Dance of the Dead! You could revisit any of the decorated horror themed rooms, for music, drinks, dancing, scares, and fun! Of course, if you wanted to take a break from all that, you could always stop by the film rooms, which were playing horror films all night long. As for me, I had my work cut out. I hosted for the 2nd year in a row, Stephen King Dollar Baby, film fest. Even though this film fest was on all three days, Saturday night's crowd was a lot of fun, the room packed, and I even gave away some exciting Stephen King prizes.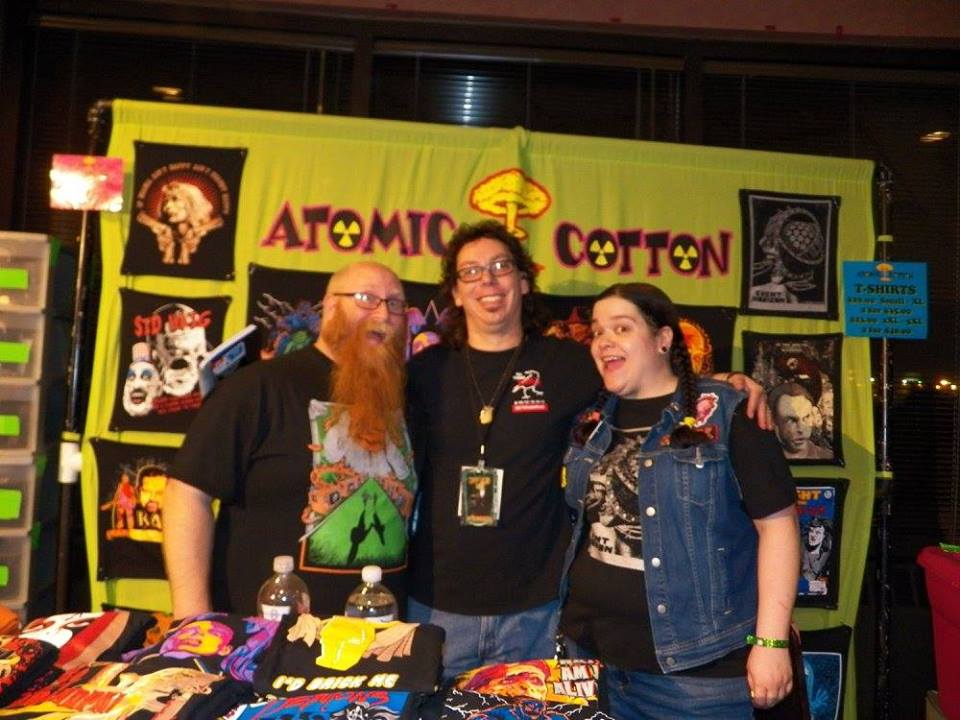 Later that evening, I hosted the film, NO SOLICITORS, directed by John Callas. John flew in to join us from California, and it was quite the surprise, and honor, to have him with us to help host and promote his film. Afterwards, John and I did a Q/A session, and he signed posters of his film for the crowd. A wonderful man, and a fun film to watch. I have to give a shout out to my lovely wife, Gena, as without her help, I wouldn't have managed. I had so much to do, and she helped to get the ball rolling with this part of the many events I was trying to juggle on Saturday night…THANKS G.!!
The last day of the convention was Sunday, but there was still so much to enjoy. Although it is the shortest day for events, the vendor room is open for business, and visits with the celebrities. Actor Michael Biehn (Aliens), had his Q/A panel, which was enjoyable and funny. Other celebrities too were giving their panels, some right before leaving to catch a plane home, now that's cutting it close! The Stan Winston School of Character Arts, presented it's 3rd Annual Makeup Contest, other celebrity Q/A Panels that afternoon were, actor Doug Jones(Hellboy films), and actress Leslie Easterbrook (Police Academy films). I was able to ask Doug: " I'd imagine playing roles with a lot of F/X makeup has its down side, what are the downsides for you?" Doug replied, "The time it takes…most talent, IS, wearing make-up." I really enjoyed visiting with Leslie Easterbrook, she's very sweet, and generous with her time, answering many of my questions, and sharing some very heartfelt stories. It was a real pleasure to meet this veteran actress, and she is still very beautiful.
As the afternoon wore on, films could be seen in the film room, and for me it was the final day of hosting the Stephen King Dollar Baby film fest. I am a huge Stephen King fan, so for me, it was a pleasure to present all these fine films by independent artists, and the fans loved it as well. The convention began to die down in the late afternoon. Celebrities were packed, and on flights back home, or off to another convention, guests checked out of the hotel, said their goodbyes to old and new friends alike, and were on their way as well, all of us knowing that we would meet back again at the upcoming con in October 2016, for a whole new lineup of celebrities, events, and fun.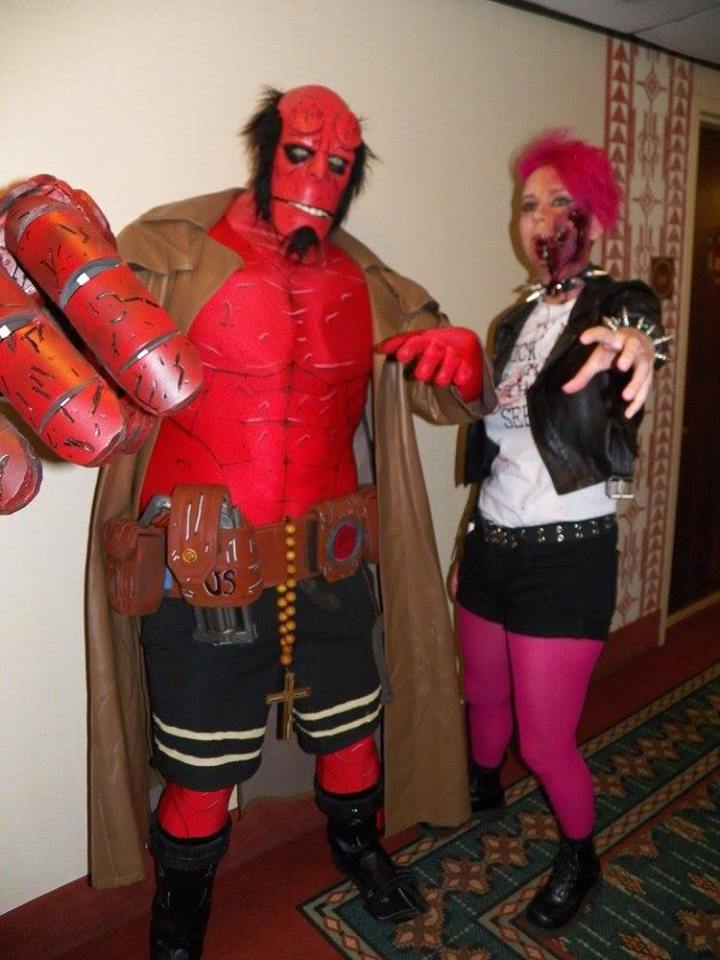 Even though this was my third year covering this amazing event, it always feels new, and a bit like going home again. I, like other repeat guests, have made friends there, some even feel like family now. The celebrity guests are always polite, thoughtful, generous, and kind. They share their stories, their time, and their generosity, but all are fun to meet and visit with. They know why we are there, how far we've come, and watched their careers all our lives, and they don't disappoint, returning the favor. The vendor's room is getting bigger and bigger as the years go by. The parties, the music (provided by DJ SLT Thomas Wollenberg), and VIP party rooms are all full of energy, excitement, and a place to really just cut loose and enjoy! The whole weekend is truly a place for fun. A place where cosplayers, fanboys, and fangirls, collectors, and those who love movies, can come to be themselves. No judging, no outcasting, no drama, and if you don't want to be yourself, dress up and be any character you want! Point is, there is a reason Crypticon MN, has been around for 10 years….I think actress Sarah French said it best: "Crypticon is like coming home, there are no fans here…just friends and family."…so if you want to experience this amazing good time, like I have, and so many others, head to… Crypticon MN Horror Convention… in Bloomington, Minnesota this October 2016…a place where you can bring your kids…and all of us kids of all ages can have fun…See you there!
There are some names that MUST be acknowledged for this year's Crypticon MN. I want to thank the creator and head of Crypticon MN, Nick Kaufman, words can't express how thankful I am, for all you do to bring the best of the best to the Minnesota area. It is my privilege, and honor, to cover this wonderful event, and I look forward to it again this year for the 4th time.
I want to thank the staff of Crypticon: Tifaine L. Lafrance, Alan Wollenberg, Thomas Wollenberg (and his DJ SLT), Curt Destler, Eric Gottfried, Don Hinrichs, Jeffrey Furchiner, and ALL of the Staff, who are the true backbone of this event. Thank you to all the celebrity guests this year. Thank you to all the vendors like Zack and Erica Kaufman, of Atomic Cotton, and all the other great vendors as well. Thank you to all the independent artists, writers, like Patrick W. Marsh, and filmmakers, who came all the way to Minnesota to share their hard work. A very special…THANK YOU… to director John Callas, for coming in person to help promote and show the guests his film NO SOLICITORS. It was my honor to host your film, and finally meet you. Thank you to Billy Hanson, and ALL the Stephen King Dollar Baby filmmakers, who participated in this year's Dollar Baby Film Fest. It was my honor to host for the 2nd year in a row. Thank you to the sponsors like Summit Beer, and many others who help bring this convention to life. Thank you to my assistant for the second year in a row, my photographer and wife, Gena Northrup, your help is greatly appreciated! And lastly, to ALL the guests who come far and wide for three days, from all walks of life, to enjoy what we all love so much…"We come as strangers, but leave as family."
Tags: CRYPTICON HORROR, CRYPTICON HORROR CONVENTION MINNEAPOLIS 2016, festival horror, horror fest minneapolis
Posted in Festival by Tony Northrup on February 1st, 2016 at %I:%M %p.