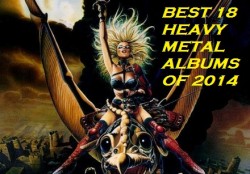 2014 has been rich in high quality releases, as you can check listening to one of the albums below. Amongst appreciated and impressive come-back (Agalloch or Behemoth), exciting personal discoveries (Mors principium est or Blut Aus Nord) and reaffirm (Lacuna Coil or Evergrey), this year moved multi-colored and engaging albums. Here we are with our best 18 titles gliding around metal, folk, depressive and dark atmospheres.
1- Insomnium "Shadows of the dying sun"
2- Musk Ox "Woodfall"
3- Agalloch "The serpent and the sphere"
4- Evergrey "Hymns for the broken"
5- Anathema "Distant Satellites"
6- Behemoth "The Satanist"
7- YOB "Clearing The Path To Ascend"
8- Mors principium est "Dawn of the 5th era"
9- Lacuna Coil "Broken crown halo"
10- Allegaeon "Elements of the Infinite"
11- Machine head "Blood & diamonds"
12- Mastodon "Once More 'Round the Sun"
13- Blut Aus Nord "Memoria Vetusta III: Saturnian Poetry"
14- Primordial "Where Greater Men Have Fallen"
15- At The Gates "At War With Reality"
16- Ne Obliviscaris "Citadel"
17- Thou "Heathen"
18- Epica "The Quantum Enigma"
Posted in Poll by Giulio De Gaetano on January 1st, 2015 at %I:%M %p.