RANK: 8/10
The Marvel Universe has certainly taken over the box office every summer for quite some time now and this year is no exception. We started the summer with The Avengers:Age of Ultron and now as summer presses on we have Marvel's latest superhero film: Ant-man!
The film begins in 1989 with Dr. Hank Pym (Michael Douglas) who works for S.H.I.E.L.D and has spent his life studying and creating work on "ant shrink technology" which is meant to be used for the better good. However, when he is forced out of his high position, he takes his work with him and puts it into hiding. Years later, a thief by the name of Scott Lang (Paul Rudd) is finally out of prison and with no place to live, no job, an ex-wife who wants him to pay alimony for their daughter, Cassie – Scott is at the end of his rope. He roommates with his old prison friend Luis (Michael Pena). Luis tells Scott of a "sure thing heist" and knows it will help him get back on his feet again and maybe get his daughter back.
With no choice, Scott takes the heist job, but when he breaks in the safe to see some sort of motorcylce type outfit instead of money he takes the suit with him unknowing it's true power. It turns out the heist was a set-up by Dr. Pym who has been watching Scott and his "cat burglar skills" for a much bigger and more important heist: to steal the "Yellowjacket" suit from his old company from Corey Stoll (Darren Cross) who took over for Dr. Pym and plans on using the technology for the worse and selling it's plans to Hydra. To see if Scott aka Ant-Man can save the day, I recommend Ant-man!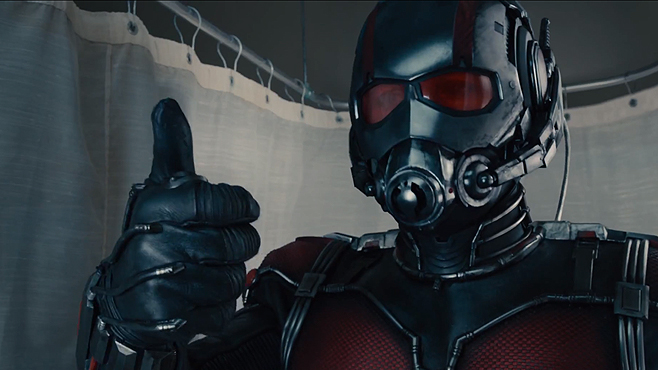 When you hear of superhero films you recognize heroes like Thor, Iron Man, Captain America, and Hulk right away, but to be honest I had never heard of Ant-Man before until now. This superhero film was a bit different than most. It was very funny (humor mostly provided by Paul Rudd and Michael Pena), it is very "family friendly" compared to the other superhero films, and it wasn't overly violent. I enjoyed the F/X's and especially the "ant-sized" visuals which seem kinda of weird at first with that "Honey, I Shrunk the Kids" type feel to it, but after awhile it becomes fun and interesting. The cast did a fine job and I especially liked Michael Douglas, a very different role for him, but an interesting character and not the stereotype scientist role we've seen before. All-in-all a fun film for the whole family to enjoy!
There is a scene during the credits and after the credits. This is standard now for all of Marvel's films. I am pretty sure we haven't seen the last of Ant-Man for he will make cameos spots in the other Marvel Universe films coming soon. And speaking of cameos, you might see a few in this film as well so stick around. A good time and a fun film. Go see…Ant-man!
RANK: 8/10
Regista/Director: Peyton Reed
Cast: Hayley Atwell, Evangeline Lilly, Judy Greer, Paul Rudd, Corey Stoll
Usa, England 2015
Posted in Action and Fantasy by Tony Northrup on July 27th, 2015 at %I:%M %p.