RANK: 7.5/10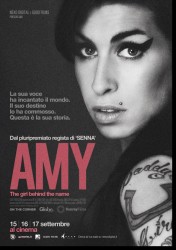 La vita di Amy Winehouse vista e vissuta tramite lo sguardo di Amy, come recita il titolo del docu-film: Amy the girl behind the name. Senza filtri, dal periodo pre-adolescenza alla morte, dai primi versi agli ultimi successi, in un percorso troppo rapido, impervio al punto da bruciare se stessi, oltre le tappe.
Amy the girl behind the name monta video recuperati dal passato, quando Amy canticchiava per divertirsi con le amiche, quando sembrava spensierata ma già non lo era, quando già subiva e soffriva la latitante figura paterna; mescola questi spezzoni con concerti dal vivo, registrazioni dal vivo e premiazioni, seguendo una linea temporale che nel suo spietato ordine cronologico, la accompagnerà fino alla fine. Fine sopraggiunta troppo presto, per arresto cardiaco in seguito ad eccesso di problemi alimentari (bulimia) e di droghe.
Asif Kapadia dirige tentando di non infondere eccessivo sentimentalismo, lasciando il compito di raccontare tramite parole e immagini a brevi spezzoni d'infanzia o alle parole delle persone che hanno vissuto con lei o che ne hanno sfiorato la vita (vedi il cantnte Tony Bennet). Non manca momenti live, dove la voce di Amy Winehouse, con i testi che scorrono, ne narrano il disagio, la sofferenza, la gioia, la vita.
RANK: 7.5/10
Regista/Director: Asif Kapadia
Cast: Amy Winehouse, Yasiin Bey, Mark Ronson, Tony Bennett, Pete Doherty
Inghilterra 2015
Tag:AMY THE GIRL BEHIND THE NAME, AMY THE GIRL BEHIND THE NAME RECENSIONE, Amy Winehouse, Amy Winehouse documentario, Amy Winehouse morte, Asif Kapadia, Mark Ronson, Pete Doherty, Tony Bennett, Yasiin Bey
Posted in Drammatico by Giulio De Gaetano on febbraio 11th, 2016 at %H:%M.